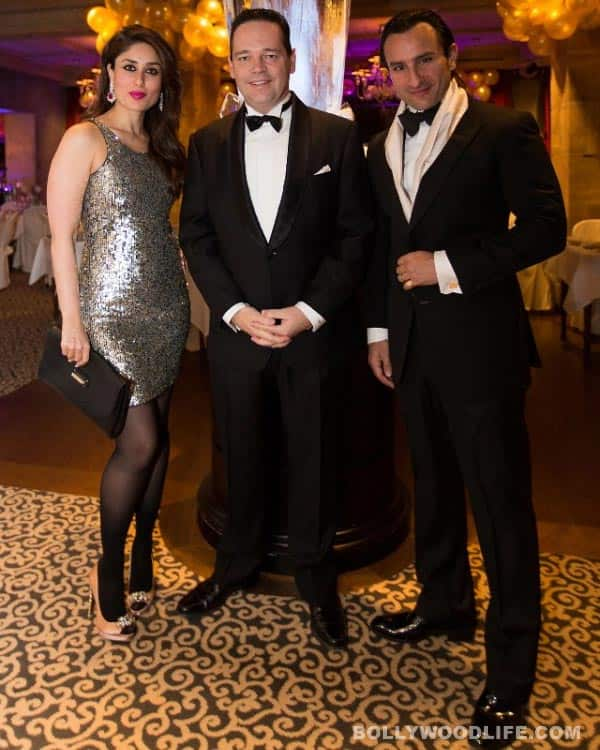 The newlywed Kareena Kapoor (Khan) was spotted with her beau Saif Ali Khan celebrating the arrival of the New Year in Switzerland. But what's with Bebo's bling look?
Kareena Kapoor it seems is still hooked on to her garish and over-the-top flashy look from Talaash. The babe portrayed a high-profile escort in Reema Kagti's recent release and we loved Bebo's 'spirited' performance in the much-acclaimed production as well. But all we can say, going by Kareena's recent pictures with husband Saif Ali Khan, is that the 31-year-old star is carrying her Talaash character wherever she is going on the planet.
Kareena posted this pic on her microblogging site. The newlywed couple was busy celebrating the New Year in Switzerland and this snapshot has come straight from the land of Alps. While it was nice to see both Saifu and Kareena posing happily for the camera, Bebo's style let us down immediately.
Just look at those tantalising black stockings, the shimmery silvery body hugging dress and that loud, scarlet pout. Even the hairdo, the twinkling block heels, the clutch and the make-up is screaming loudly, complementing the gaudy look oh-so-perfectly. While Saifu is at his debonair best in his classy tuxedo, Kareena it seems has returned straight from Talaash 2.
But hold your horses! Are they making a sequel? Going by this pic, we think they are!