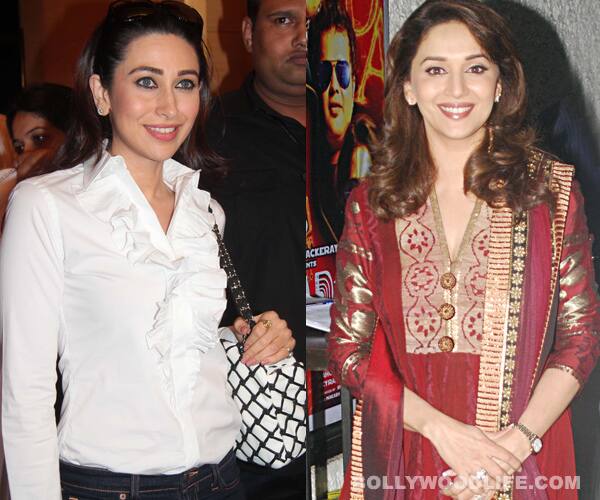 Karisma Kapur's Dangerous Ishhq is a woman-centric film. Now does that ring a bell? Mrs Nene's comeback film Aaja Nachle was a concept based on feminism, but failed to touch audiences and instead of accelerating the diva's career, bought it to a screeching halt
There's no denying that it's difficult to match these beauties when it comes to acting. They have the grace, the talent, the ability to enthrall you with their performances, but what really comes in the way the instant they decide to get back to the grind and make their presence felt on celluloid after their much needed post-pregnancy breaks? The matter is simple, be it
Karisma Kapur
or Madhuri Dixit-Nene. The break transforms these sprightly girls, who once upon a time enjoyed running around the trees and singing romantic songs, into mature women, who all of a sudden harbour the desire to play 'woman of substance' kinda roles. The break acts as an epiphany moment, gears them up and gives them the much needed impetus to go out there and do something that makes an impact. They all start aspiring to be the Meryl Streep of Bollywood and when they are offered a script even remotely similar to what they dreamed of, without wasting any time they give their enthusiastic nods.
 Now we don't really blame them, but we think that the scriptwriters who come up with shoddy concepts are the ones at fault. These once-star women have slogged for years in the industry and we think such films are an affront to their hard work and diligence. We hope the makers realise soon enough that actors of the ilk of Karisma,
Madhuri
and so many others – we hear that Shilpa Shirodkar is also waiting to get back in front of the arc-lights (once she is back in shape, we hope) – need to be honoured for their contribution rather than be used as cash cows in substandard flicks.
We saw the promos of Dangerous Ishhq, and it didn't do much to change our opinion. And we continue waiting for Bollywood to get its own Meryl Streep.