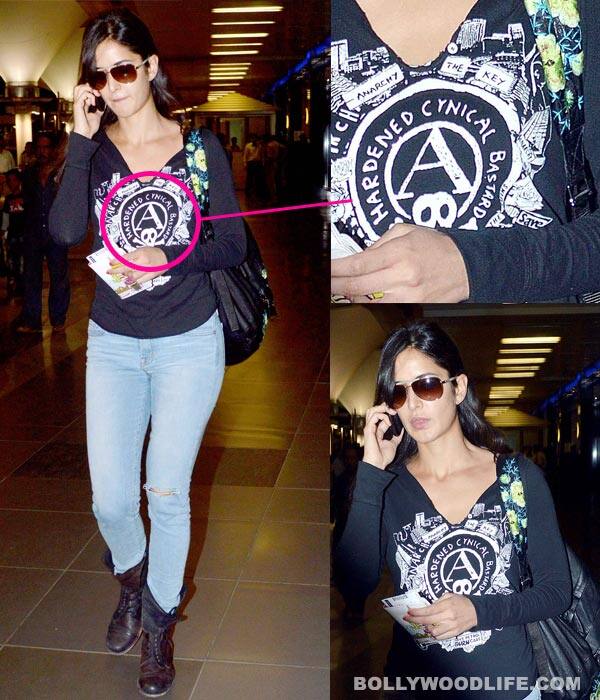 The Dhoom:3 gal is certainly saying a lot, even with her silence – don't you think so?
Katrina Kaif's back from a loooooong holiday – after her sister's wedding in London and, of course, that much talked about getaway (or three) with beau Ranbir Kapoor to sunny beach locales Kat is back in the city. And she made a very strong statement as she walked out of the airport wearing a black T-shirt, jeans and ankle boots. Katrina seemed in a defensive mood – at least, that's what the beauty's body language suggests. Despite arriving seemingly solo, she paid no attention to the photo-bugs watching her every move as she made her exit. Extremely guarded and constantly conversing with someone on the phone – was it Ranboo on the other end? – she refused to acknowledged the paparazzi waiting for her and would not even smile. If the actor's serious face wasn't enough to put us off, the words on her T-shirt definitely make us step back a bit. It said, 'Hardened Cynical &*@$%#$!' Was Ms K angry, annoyed with the shutterbugs for invading her privacy, or reacting to someone over the phone? We can only wait to find out. Until then, we speculate.
But whatever the reason for her frown, we certainly are missing the cool and relaxed Katrina Kaif – could she please come back and wow us with her lovely smile again soon?