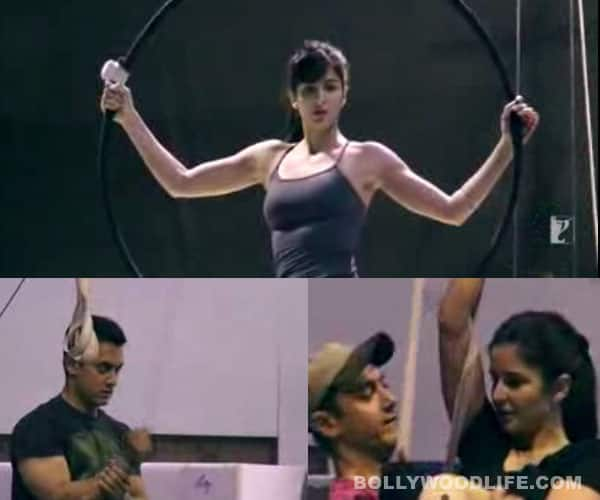 The leggy lass is certainly beating Mr Perfectionst in one department… Don't believe us? See for yourself!
Ever since Dhoom: 3 trailer has released, movie-enthusiasts have been looking forward to watch two hotties in this action flick -Aamir Khan and Katrian Kaif. Aamir's baddie avatar is certainly making us curious, for we know that Mr Perfectionist will not do anything, unless something really hatke grabs his attention – something that has never been tried before. And then there's Miss Kaif, who looks explosive right from the word 'go' with her acrobatic stunts and her nubile bod.
While everyone knows about Aamir's acting chops and his unquestionable intensity, he doesn't look like a convenient acrobat. We saw his tap dance and it did not exactly impress us. The shorty is not exactly a hottie, in this otherwise beautifully shot feet-tapping number, to tell you the truth. Aamir as usual, is trying to put in everything he has in this number, but alas he doesn't quite come across as a pro at the act. With his short frame, the 48-year-old Khan dude is struggling to synchronize his starry steps with the exciting background score and the fiery beats.
And then you have Katrina Kaif, who is moving with incredible fluidity. Katty has age on her side and she is using that card perfectly well to overpower the Khan dude. She has the grace and those interminably long legs which look killer on the screen!
Don't believe us? Watch this fiery number and tell us if she is overshadowing Khan with her gorgeous screen presence or not!