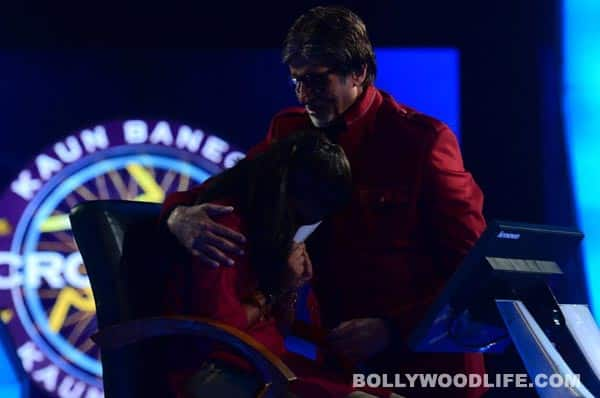 skip advertisement
The actor consoled a contestant who was overwhelmed when she got her prize money
Sunday is not always a holiday, and it can be a heavy work day sometimes. That's true for Amitabh Bachchan too! The superstar had a particularly emotional time on Sunday, October 28, when he tried to console a female contestant on the sets of his quiz show Kaun Banega Crorepati? 6. He said he is often moved by women who turn up on the show having overcome obstacles like domestic abuse and poverty to reach this stage.
"Young girls coming up to the Hot Seat, with the baggage of a most tormented existence .. Domestic violence, single earners in the house of other several members … ," Big B wrote on his Facebook account. "And when their 3-4 year earnings gets covered in a few minutes, they are unable to handle that moment .. Consoling them at KBC, one feels for their tears of disbelief and happiness ..," he added.
Touching indeed. Wethinks it's this quality the legend has, to empathise with his fellow human beings that has led to his being popular amongst the janta for the last four decades or so. But there is also a view that the current and the last season of KBC have been rather sentimental for a quiz show. Maybe the Big B is also feeling the heat! Although the host manages to lighten the atmosphere with his jokes and interactions, we suggest he try something different in the next season.
Do you agree? Or do you like Amitabh Bachchan on KBC the way he is right now? View Pics