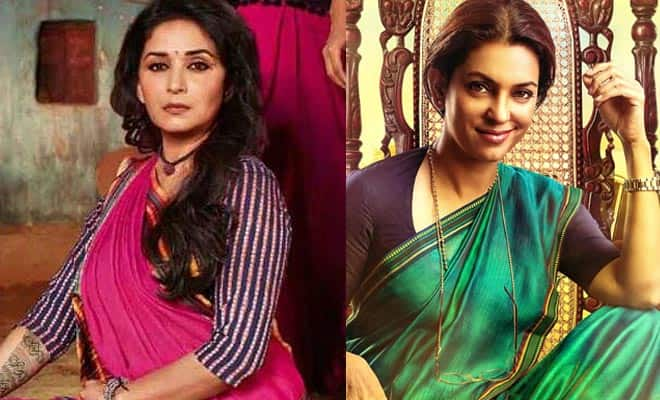 It's surprising that the extensively promoted Gulaab Gang has come under legal scanner just before the film's release
Madhuri Dixit Nene and Juhi Chawla have been doing rounds at events, interviews and entertainment channels for their film's promotions. The film's trailers and songs have been out for quite some time now. So, isn't Sampat Pal's legal action coming out a little too late, or was it just perfectly time to stop the film's release? In fact the pink revolution crusader was out promoting a documentary film Gulabi Gang based on her gang recently. Is this legal action against Gulaab Gang a farce? Is the whole Gulaab Gang controversy just another publicity gimmick? Any publicity is good publicity, Bollywood certainly believes in this. While, the makers of Gulaab Gang have appealed against the High Court's decision of stay on the film until May 8 this year, we will not be surprised if the judgement goes in favour of the producers or then if news of Sampat Pal and producers agree to settle this matter out of court.
Haven't we seen this happen very often in B-town. What also troubles the jasoos in us, is the fact that the film will release internationally and is also set to have a special premiere in Mumbai this evening. Madhuri has decided to mend fences with her longtime manager Riku Rakeshnath and has invited him for this premiere. Anubhav Sinha who was supposed to address the media yesterday also called off this interaction in the nth hour.
Well, so this evening if we get the 'good' news of Gulaab Gang hitting the theatres on the scheduled date (read:tomorrow), BollywoodLifers we're sure you will not be surprised just like us!