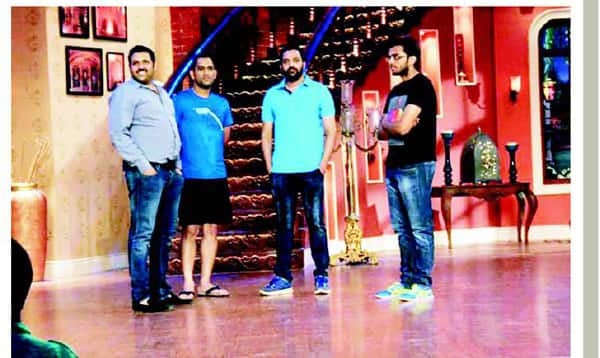 The Indian skipper was spotted on the sets of India's most loved comedy show recently
Many Bollywood celebrities including Shahrukh Khan, Salman Khan, Akshay Kumar, Priyanka Chopra, Amitabh Bachchan among others have appeared on Kapil Sharma's popular show, Comedy Nights with Kapil. And now it looks like even cricketers can't resist staying away from India's most loved comedy show. Why do we say so, you ask?
Recently, Mahendra Singh Dhoni, captain of the Indian cricket team paid a visit on the sets of CNWK. So is he the next guest on Mr Sharma's show? Well, unfortunately no. So what was the Indian skipper doing there? From what we hear, he was just there to mingle with the cast and crew of the show. We also hear that his surprise visit left Kapil at a loss of words. Like many B-town celebs, it looks like even Dhoni is a huge fan of Kapil.
If you will remember, Mr Sharma has been trying really hard to get Sachin Tendulkar on his show. But now after Dhoni's surprise visit, wouldn't it be interesting to see both Dhoni and Sachin together on CNWK? Or how about the entire Indian cricket team? Well, that would be something absolutely worth watching, hai na?