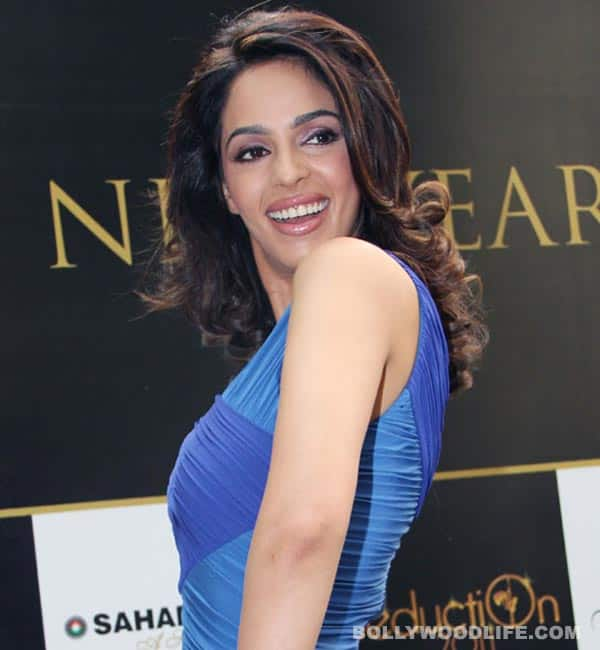 No, we do not mean the game that can be wicked fun, but the Kismet Love Paisa Dilli actor is giving free advice to her followers, urging them to stay in good shape. Is Mallika considering a new career – that of a health-expert?
There are very few babes in Bollywood who generate the kind of hysteria that Mallika Sherawat does. Ever since her sensational debut in Anurag Basu's Murder, the leggy beauty has been persistently in the news for her bold image. And now Mallika is all excited about her upcoming film Kismet Love Paisa Dill, co-starring Vivek Oberoi. But more than the movie, Sherawat is gung-ho about playing a health-expert on Twitter. She is giving every possible tip she knows to urge her fans to become vegetarian and stay fit. Sample this. "Avoid Dairy Products, too many hormones and antibiotics being given to cattle, it all gets transferred 2u when drinking milk etc," tweets the bold Haryanvi gal.
A follower asks Mallika what the secret of her beautiful hair is, and the dusky lady gives a straight answer without mincing words. "Not using harsh shampoos+ Exercising:," she tweets. And if you are curious to know how Mallika maintains her lean body, here's a special tweet on that one. "On ma way to gym,gotta do 200 free squats!!:) Ran 7kms in 30 minutes!feeling on top of Th world:)".
And you don't even have to bother asking her what diet she follows, for Mallika floods her Twitter page about the benefits of being vegetarian with heavy scientific explanations attached. "Being a vegetarian,exercising,positive thinking helps:) Veg food is digested fast,more alkaline and doesn't make you bloated:), buy organic fresh fruits and vegetables,inorganic ones hv harmful pesticides nd chemicals !!, Avoid drinking any coke,Pepsi,soda s etc,it contains Neurotoxins,damages brain cells,hv coconut water instead my precious tweeple:) Increase intake of fruits and vegetables, whole grains, and nonfat or low-fat milk products. drink Luke warm water with lemon n honey on empty stomach first thing in morning 🙂 The healthiest oil to cook with is Cold Pressed extra virgin Coconut oil,and 4 salad dressing Olive oil:) Yoga helps immensely," she tweets.
Oooffffff! What's wrong with you Mallika, darling? Girls expect a couple of tips on style from you. (In fact, fashionistas often know what not to wear after seeing your over-the-top style statements!) And guys, being guys, expect you to upload a couple of hot pics every day, a la Ponam Pandey or Sherlyn Chopra. So do that, na! And leave the job of advocating the goodness of yoga and healthy living to a certain Baba or the myriad nutrition gurus buzzing around B-town. And if you continue to bore us with your never-ending gyaan on health, it will kinda hurt yous 'colourful' portfolio, na!