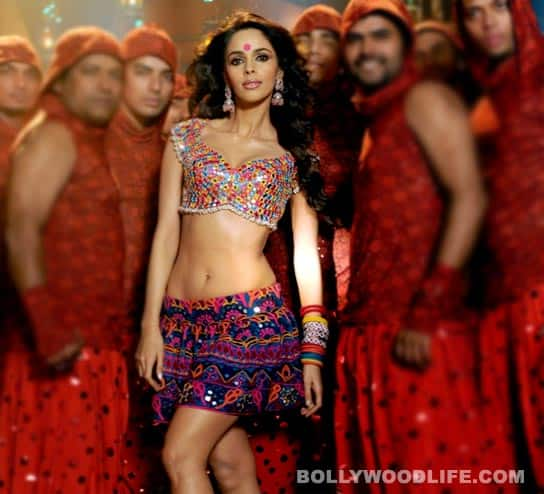 Looking at the fate of Mallika Sherawat's recent items songs like Razia and Shalu ke thumke, it doesn't seem as if her dance numbers are still selling like hotcakes. Yet the sexy siren signs on to do one more for Priyadarshan's Tezz
The item song is Bollywood's favourite tool to lure audiences in to cinema halls, but now it's becoming boring and redundant, almost as bad as scripted reality shows on TV. Even then filmmakers don't give up hope and continue churning out song after song. So we have Malaika Arora Khan doing 'Anarkali disco chali' in Sajid Khan's Housefull 2 and her contemporary and favourite item gal Mallika Sherawat gyrating to 'Laila Laila' in Priyadarshan's action thriller Tezz – the number that so many stars, from Priyanka Chopra to Sameera Reddy, were rumoured to be doing. Speaking of the Haryanvi danseuse's item song: it won't have her trademark ingredients – desiness and tadka – like you saw in Razia, Shalu or Jalebi bai. The makers insist it's going to be different, hatke, very alag se even from the leading songs of the type like Munni, Sheila and Chikni Chameli. Let's wait and watch.
But we think Shalu's sizzle is nowhere closer to Munni's oomph these days. Is it because Malaika's dancing acts are carefully chosen and well placed in big-starrer productions (Dabangg, Welcome, Hey Babyy, Om Shanti Om) whereas Mallika is willing to get jiggy in any and every film (Double Dhamaal, Bin Bulaaye Baraati, Thank You, Aap Ka Suroor)? Maybe that gives the Munni lady an edge over the Shalu gal. Don't ya think so? Wonder if 'Laila Laila' will put Mallika back on the pedestal she tumbled off as leading item queen.
Also read: Mallika to make her Bollywood comeback