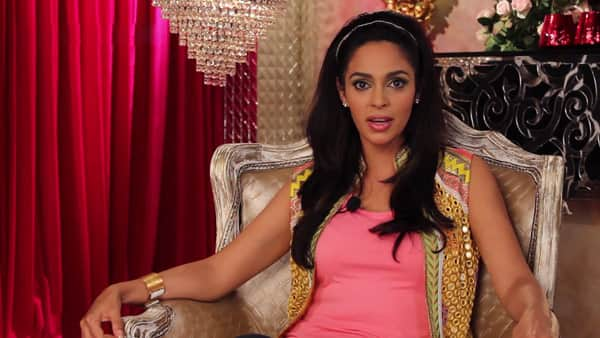 A video featuring B-town's controversial sexpot wishing the Gujarat Chief Minister happy birthday in her… err… seductive voice is doing the rounds. Take a look!
On the eve of his 63rd birthday Gujarat Chief Minister and BJP's candidate for prime ministership Narendra Modi has been flooded with congratulatory messages from the political world and millions of his admirers. But little did the influential leader anticipate a congratulatory video clip from bootylicious babe Mallika Sherawat, this time fully dressed, thank God!
Remember how during the launch of the promotional trailer of her new TV show The Bachelorette India – Mere Khayalon Ki Mallika, when B-town's Mallika-e-azam was asked who according to her is India's most eligible bachelor, the Murder babe replied, "I think its Narendra Modi. He is smart, progressive and often misunderstood like me"? Stop giggling, peeps! This isn't that clip.
The video shows her single snootiness wishing that most eligible bachelor NM a very happy birthday through a hilarious video where she's seen seducing… or was that supposed to be singing?…. him with a happy birthday song, addressing him as 'Narender' Modi through dark pink lipstick. Eww!
When we learned about the Hisss actor doing a reality show aiming to find the perfect life partner, we understood that it's being done primarily for monetary reasons, coz' we know our lady is known for mingling with Hollywood celebrities, including the President of the USA Barack Obama (who she claims is her 'good friend'). Hmmm… so after Obama, it's Narendra Modi for Mallika?
Ever since the clip went viral on the Internet thanks to the 'Queen' who shamelessly shared it with her followers, B-town celebs haven't stopped sniggering. Music composer Vishal of Vishal-Shekhar duo tweeted: "Watched a video of Mallika Sherawat singing to Modi for his birthday. This oughtta seriously damage any credibility he has!" And we really liked director Puneet Malhotra's comment: "Mallika sings Happy Birthday for NaMo!!! HAHAHAHAHAHAHAHAHAHAHAHAHAHAHAHAHAHAHAHAHAHAHAHAHAHAHAHAHA."