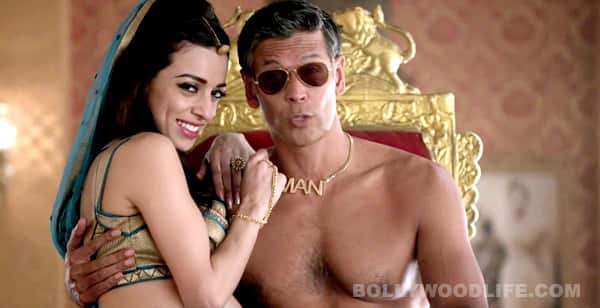 The Made in India hottie has failed to seduce us with his latest commercial
Milind Soman commands attention. Ever since he has emerged out of a smoky box in Alisha Chinoy's popular video Made in India, Milind has become the certified object of female fantasies. His tall frame, sculpted body and angular face make him the Adonis who makes women go week in their knees. And who can ever forget the Tuff shoe print commercial that had Milind Soman and Madhu Sapre posing nude with just a python wrapped around their bare bodies? And here's the 47-year-old dude back to what he does best-showing off his the toned bod.
In this new commercial we Soman sitting in a throne in a haveli with just a towel wrapped around his waist and he starts with some cheesy lines. Milind surely knows what works in his favour. The lopsided naughty grin, grey hair and the tanned skin do the trick. What doesn't work is the commercial that tries too hard to be funny by mocking the in-your-face endorsement strategy. Watch the camera hovering over the man's chest before he reminds the viewers to focus hard. Now isn't a bit much? You tell us!
[jwplayer mediaid="276701″]