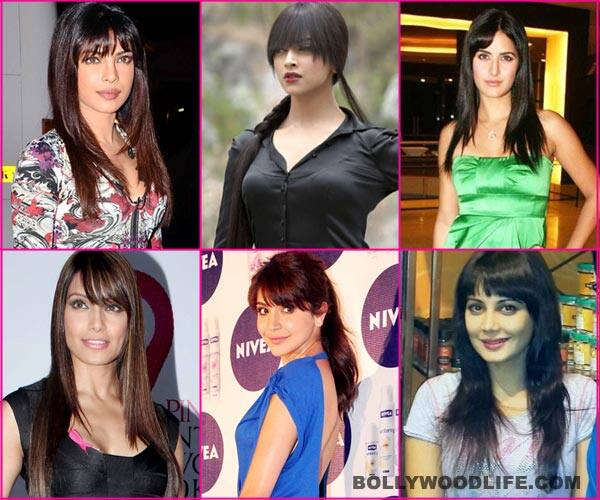 B-town divas ensure that some trends never go out of style. A fringed hairdo is one of these. But can everyone do it as well as Priyanka Chopra?
Be it promotional events or movies, a lot of the glam girls have been spotted sporting a fringe – hairdo, we mean. Recently Minissha Lamba joined the fringe girls' gang. With so many actors blindly opting for bangs, we have to wonder – do all of them carry it well?
The fringe style in Bollywood dates back to the '60's when yesteryear's actor Sadhana flaunted it. Back then too, the look was loved by girls and the fringe fever hasn't died down today. While it's difficult to decide who started the fad once again, so many of the newer gals are getting styled with long-ish fringes. B-town hottie Priyanka Chopra was seen showing off her bangs at quite a few events recently. Super stylish that she is, she carries off any look with great ease and yes, we like her with a fringe.
Anushka Sharma was spotted with a side swept growing out bangs recently. This cute bubbly babe from Jab Tak Hain Jaan earlier had hair covering her forehead not that long ago. Wethinks that the sideswept style suits her face better than her earlier 'do… Moving on from Ranveer Singh's ex to alleged current, Deepika Padukone was seen with a fringe in her film Chandni Chowk to China, but that's about it. She prefers messy tresses or tousled braids over fringes. And we're glad! Katrina Kaif too has been seen with bangs. The firangi babe doesn't usually experiment with her hairstyle and it's a pleasant change when she does. We must add that the fringe on her forehead makes Kat look very cute… Bipasha Basu is also one of those actors who have carried the look with elan. The sexy bombshell looks sexier (if that's possible) with a fringe flopped over her forehead. As for Minissha Lamba's hairdo, it looks like an imitation of Anushka Sharma's front fronds. Carrying the bang-up look is not everyone's cup of tea, so don't get it just because everyone else has it…
While PeeCee makes our hearts thump louder with her fringe, who sets your temperature soaring highest?