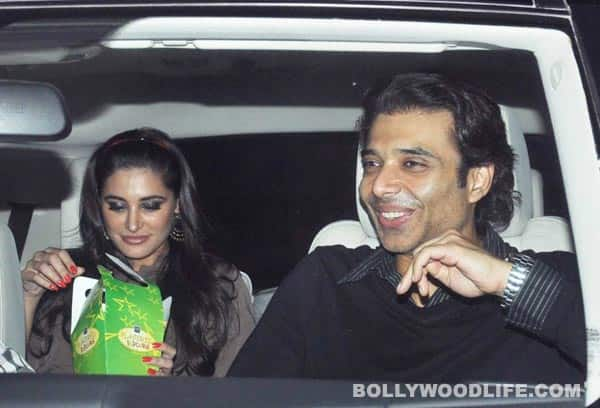 We all remember the famous Twitter episode where the Chopra scion couldn't stop raving about Nargis. While the Dhoom:3 actor has been quite open about his feelings for the Rockstar babe , we aren't sure if Ms Fakhri feels the same…
A lot has been said about Uday Chopra's fondness for Nargis Fakhri. The actor never misses an opportunity to express his pyaar wala feelings for the B-town babe on the popular microblogging site Twitter. But this time we hear the two have had their first fight on the social networking site!
Here's what happened: After wrapping up her shoot for Main Tera Hero, Nargis was supposed to fly to the US to meet her mother as well as Uday. But she seemed to have changed her mind and posted on Twitter, "Should I go back to Mumbai or should I chill and travel in Thailand? Hmmm…. Maybe I'll just stay an extra two weeks! Ha! #MyLife".
Within seconds, the deeply-in-love Uday replied, "Nargis Fakhri Stop lying you know your coming to LA." The babe shot back and wrote, "Uday Chopra Ugh oh here comes trouble…. Haha you wish…"
A few more tweets followed and it seemed as if Nargis wasn't interested in meeting Uday at all. Our guess wasn't wrong, as she eventually didn't go to America. She tweeted, "Feeling bummed out… Was supposed to travel but now have to head back to Mumbai. Ahh life… Learn to go with the flow – that's the key!"
Is Nargis trying to avoid Uday 'coz (we hear) Uday is quite eager to settle down with his ladylove? Clearly the model-turned-actor doesn't want to take the plunge, as she wants to focus on her filmi career.
Apparently, that's what Ms Fakhri has been telling to the Chopra lad to avoid the big proposal. That could well be the reason why she cancelled her trip to the US too. After all, if they meet and Uday pops the question it would obviously be harder to say no in person, hai na?
While we get the signals quite loud and clear, Uday on the other hand, seems to be blinded by love. He just isn't reading between the lines. In fact, Nargis even said in an interview, "I don't believe in marriage. I don't come from the same culture. It doesn't make sense to me. So I have no plans to get married."
We hope this clears the picture for Uday and his marriage plans!