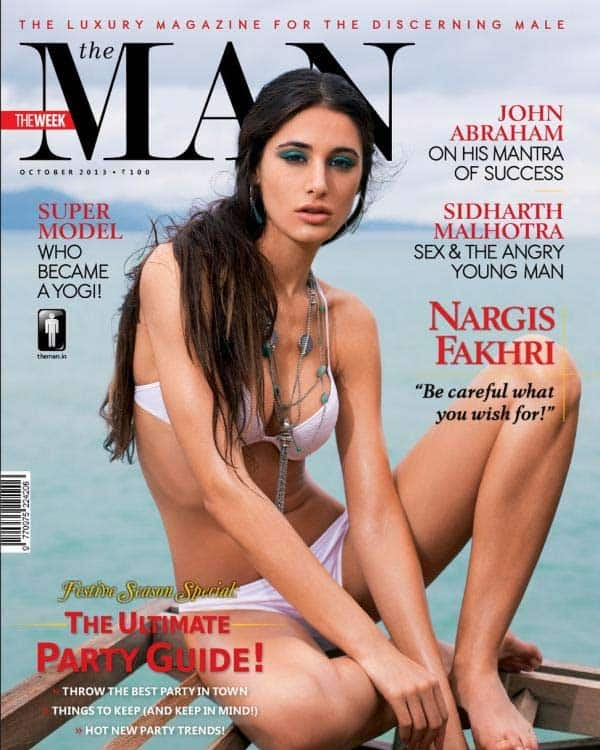 This cover picture made us ask the inevitable question: Does the Rockstar actor have the enviable curves so needed to be a super-sexy bikini babe? You tell us!
Nargis Fakhri may have received flak for her acting in her debut film Rockstar, but the 33-year-old beauty is an object of male fantasies thanks to her unmatchable elegance and the rare genetic lottery that makes her look angelic and sexy at the same time. Born to a Czech mother and a Pakistani father, this American import is a definite head turner, but does she have it in her to be an out-and-out sex bomb with that inherent wilderness that can make men go wild with one hot look from her?
And giving enough validity to our opinion that she doesn't is this cover picture. Here's Nargis, splashed on the cover of The Man magazine. Clad in a white bikini, Fakhri strikes an odd pose that highlights her long limbs and her enviably thin bod. After appreciating her toned torso gifted with substantial assets, we obviously started searching for more visual treats in the form of curves that could make us swerve to look further at this cover shot. But alas, Nargis kinda disappointed us with her limited…err…talent. Her cold gaze and that elegant pout did not raise the mercury either. And after taking a long look at the sea behind her and at Nargis' slender figure, there wasn't much to this cover picture that could make us jump in our seat with excitement. Sigh!
PS: Now before you jump to any hasty conclusions about Nargis' potentiality – or the lack of it – to become a haute bikini babe, we give you more pictures where the sexy lady has indulged in skin-show quite aesthetically. Go through this stimulating picture gallery and tell us if she has it in her to rock your fantasy world – in her bikini avatar or otherwise!