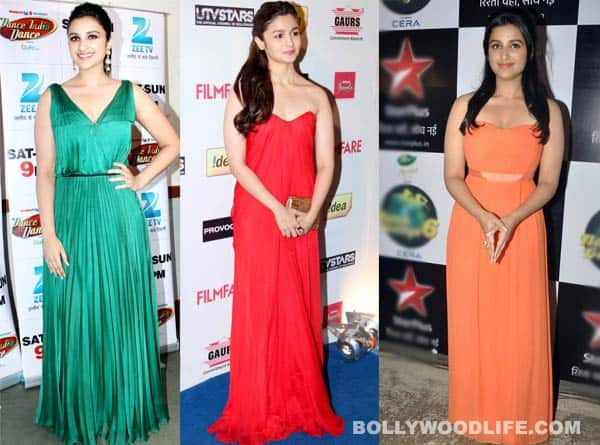 Both actors are still new in showbizland and the Bhatt girl has accepted that she considers Pari her competition. But certainly not in the style department…
When Alia Bhatt appeared on Karan Johar's Koffee with Karan she made it to the headlines with her witty statements and her goof about the president of India. On being asked to whom she would gift the Style for Dummies book, the SOTY girl named Parineeti Chopra. Ahem! We can't blame her for naming Pari, can we? Though Alia herself isn't the most adept fashionista in B-town, we'd give this one to her – she is better dressed than Parineeti, most of the time.
At Filmfare nominations bash, Highway actor Alia was seen in a strapless red Alexander McQueen. The young actor looked very cute in it, especially since she had kept the look very simple. She looked like a pretty teen dressed for a prom date. And if Alia was actually doing that, she'd certainly win the queen's crown. Shortly after that we saw Parineeti at two different events wearing maxi dresses – that made us feel that she's been inspired by the Bhatt girl.
On the sets of a dance reality show, the Shuddh Desi Romance actor was seen in a green Halston Heritage pleated dress. With her hair pulled back in a ponytail, her face looked very pretty. But the dress did no justice to her body type. The V-necked gown would've looked hot on Pari's cousin Priyanka Chopra, but it's doing quite the opposite for the younger girl. And she wasn't quite comfortable in it – she kept adjusting the plunging neckline. Two-sided tape, anyone? And if this wasn't enough, on yet another dance reality show the chirpy babe was seen in a long orange maxi dress. This time she opted for a strapless BCBG gown and it looked a lot like she was imitating the Highway actor. But she was also far more comfy in it and wore it with more panache.
While Alia Bhatt reminds us of a younger Kareena Kapoor Khan, Parineeti looks like she's aping her junoir. Though Pari has never been in the fashion police's good books for more than a day or so, we wish she would remember what she herself once said and just be herself and wear what she's comfortable in. For now, let's wait and watch Pari as she promotes Hasee To Phasee and see if finds her own fashion feet!