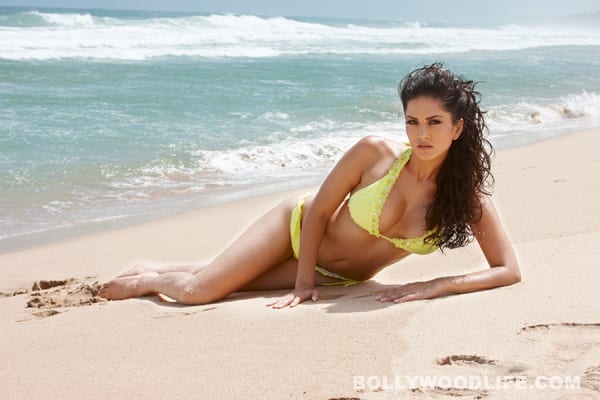 What else can you think when the director sahiba gets a real life porn star to play a porn star in the film!
At the press conference to promote Jism 2, the film's director Pooja Bhatt took great pride in announcing that she had altered the leading lady's background to that of a porn star when real-life adult film star Sunny Leone came on board for the project. That's not all. The actor-turned-director sahiba was highly impressed with herself for being the first to cast the Bigg Boss 5 hottie and present a new femme fatale to the Indian audience.
And then we started taking a better look at all the promo material that was being released – the trailers, the songs, the images…and all that made us wonder if Mahesh Bhatt's daughter's so-called noble and courageous act is not selfish and exploitative in nature! By casting adult film star Sunny as a porn star and getting her to strip, kiss and make out onscreen with so few inhibitions – something that any other actor would probably shy away from – Pooja has definitely taken advantage of her leading lady's background.
But wethinks the Canada-born Indian actor was always fully aware that her infamous image would be harped on for all the mileage required to make the film a hit. Don't you think so too? Or else why would Sunny take up the role of a porn star in a film too? Clearly both Pooja and Sunny knew it was a win-win situation. With Jism 2 the director hopes to add a hit film to her kitty and Sunny makes a big and bold entry into Bollywood.
However, we thought about something else. If the adult star-turned-feature film actor aspires to make a flourishing career in mainstream movies in B-world, she's going to be highly disappointed. In an industry that is extremely conscious of an actor's image, and rather prudish in spite of the 'liberal' mask it collectively likes to wear, Sunny will be restricted to roles that require sex and sleaze onscreen, wethinks. If the buxom babe desires to work with leading production houses in big-budget films opposite superstars, that will most likely stay a dream. After all, both production houses and audiences prefer 'family' films, no?
From that point of view, Pooja's film Jism 2 certainly has exploited Sunny's image and experience. While the film provides a grand and eye-grabbing platform for the Canadian adult star to step into B-town on, it mars any chance she has to do mainstream commercial movies here. And wethinks eventually every actor aspires to be part of the clean, entertaining movies that audiences flock to see. A certain Ms Mallika Sherawat or Ms Poonam Pandey would vouch for that!