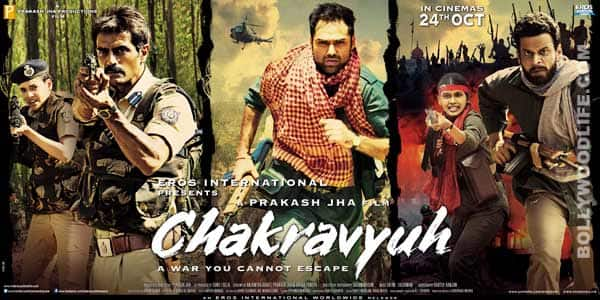 There is more being said and read about the veteran director's next film Satyagraha, that releases only next year. But what about his Abhay Deol-Arjun Rampal-Manoj Bajpayee starrer that releases next month?
It is probably a first in Bollywood when a filmmaker promotes a film that will release next year instead of his own baby that releases next month. We are talking about Prakash Jha and the films in question are Satyagraha and Chakravyuh. We were present at Chakravyuh's trailer launch and what we saw was a decent attempt to make a film that was socially relevant and fairly engaging. Apparently Jha is not very confident about this one pulling in the audiences. Perhaps he feels that his star cast – Abhay Deol, Arjun Rampal, Manoj Bajpayee and Esha Gupta – might not appeal to the crowds.
To tackle the situation the director has started peddling his next project, a film called Satyagraha that boasts of stars like Ajay Devgn, Amitabh Bachchan, Manoj Bajpayee and Kareena Kapoor. We were surprised by Jha's strategy, especially because the shooting of Satyagraha hasn't even begun. The film will release late next year and we have already seen full page ads in leading dailies announcing the release date. We wonder if talking about Satyagraha will help create a buzz about Chakravyuh – publicity in some convoluted manner. Adding an item number in Chakravyuh seems to be a better way to create a buzz, wethinks…
Dear Bollywoodlifer, do you think this is a logical way to go about it?
ALSO READ: CHAKRAVYUH song: Abhay Deol turns desi in Mehngai