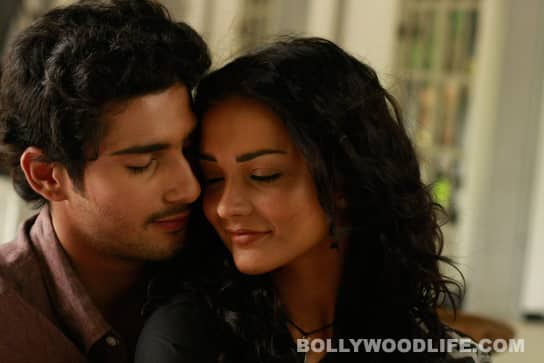 More than their on-screen chemistry in Ek Deewana Tha, Prateik and Amy Jackson's romantic liaison in real life has become the hot topic of discussion. After the hullabaloo over the song Hosanna, the film is now under the Censor Board scanner for the steamy sequences between the lead couple
Prateik and Amy Jackson's real life love equation trickled in on their reel life too and their passionate on screen romance has become a matter of concern for the makers of the film Ek Deewana Tha. The film had already run into trouble for the usage of the word 'Hosanna' in a song and now the director doesn't want to deal with any more controversies.
A little birdie informs us that the makers of the film feel that some of the steamy sequences shot between Prateik and Amy in the original take may be objected by the Censor Board.So those scenes are likely to be chopped off from the film to avoid further hassles. "The scenes are aesthetically shot, so we are left thinking whether to tone it down or completely edit it," said Gautam Menon, the director of Ek Deewana Tha in an interview. After all the trouble and controversies we hope that the effort is paid off and the film is really worth all the troubles.