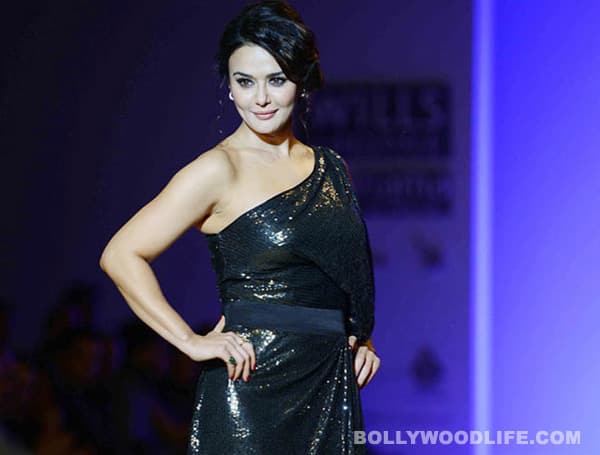 PZ is turning into a beauty and fitness freak. And here's why we say so…
Preity Zinta is one dimpled babe who believes in being totally active on Twitter…and off it too. PZ's tweets reveal that the lady runs for over 25 kilometers per week, adores a champi and just can't refrain from dishing out all the gyaan on fitness and beauty.
For those oblivious to it, here are Preity's tweets:
"Nothing is more relaxing & invigorating than a good old champi ! 4all of U who don't know its a head massage with oil ! Am lovin it 🙂 Ting"
"Bestway 2run is at intervals with brisk walking & NEVER on an incline. Weights should be done with 30 second intervals. U get better results"
"Weight training helps in toning & is a very imp part of fitness. 3 times cardio & 3 times weight training is almost perfect."
"If Ur exercising its very imp2 take a steam & massages. Massages help in breaking down lactic acid in the body which helps with stiffness."
"4 me the fastest way 2 lose weight is to watch what I eat & run ! Running is my drug ! I run 25kms a week & weight train or do Pilates !"
"It was so much fun chatting with you all. Time to go to the gym now and sweat it out ! I love the Endorphins in my system post gym 🙂 Ting"
But these are not all. Her page contains many more. And it makes us wonder if PZ is going overboard with all the health tips. Don't you think so, peeps? Why, Preity herself realises that she's being over-enthusiastic. "Anymore fitness gyan or is it enough for now? Hahahhaha! Should we move to beauty ? Ting !," she tweeted.
It makes us wonder what set off Zinta's fascination for healthy living. Is she in any way inspired by B-town's darling fitness freak Shilpa Shetty Kundra? And if so, would we see Preity launching a fitness DVD in the near future, just like SSK or Bipasha Basu? We really couldn't help connecting the dots. Wink, wink.