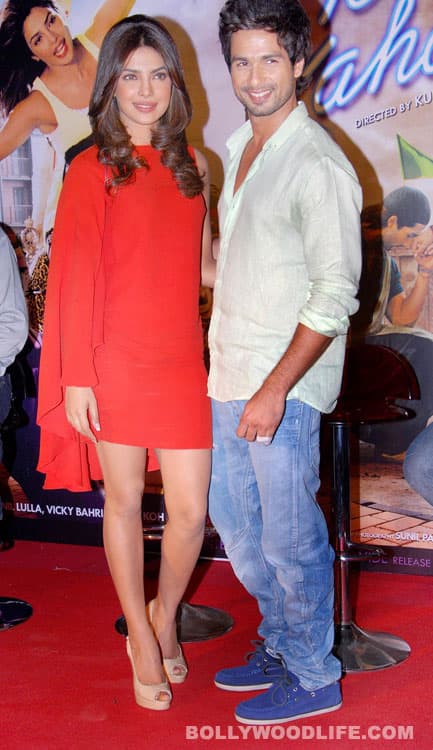 After her friendly equation with Shahrukh Khan seemingly went kaput, Priyanka Chopra is getting friendly with her Teri Meri Kahaani co-star
We bumped into Priyanka Chopra last night. While the gorgeous babe was facing the volleys of interesting questions at her upcoming film's promotional event, we were closely observing PC's equation with her reported ex-flame and now co-star from Teri Meri Kahaani, Shahid Kapoor. Though Shahid looked a bit vague and even cold when Priyanka appeared at the do and gave him a quick hug, Piggy Chops was her usual fun-loving self and absolutely warm to Sasha. The couple's on-screen chemistry was sizzling in the 2009 film Kaminey and once again they are gearing up to set the silver screen on fire with Teri Meri Kahaani, the story of soul-mates meeting through different ages.
The film's endearing plot of two people meeting each other and falling in love repeatedly through three lives prompted a journalist to ask PC and Shahid an awkward question: "Would you two date each other in three different lifetimes?" Shahid was completely bowled by that googly. "Oh, you mean Janam janam ka saath? You mean hypothetically?" fumbled the 31-year-old actor. And then he sheepishly turned to Priyanka and put her on the spot asking her what she would say, to which PC gave a firm reply: "For three lifetimes? Well, considering the film we are endorsing, yes, of course. We believe in Janam janam ka saath and we vouch for it." The answers brought the hint of a smile to Shahid's face. It seemed as if Priyanka was trying to make amends and be friends with her on-off 'boyfriend' once more. But why does PC want to revise her status with Sasha? And what caused any change of heart?
Apparently Priyanka's alleged romantic link-up with Shahrukh Khan has landed the leggy lass in deep trouble. Mighty star wives have joined hands with big producers-directors of Bollywood to isolate PC. We have also heard that SRK's wife Gauri is miffed with PC's over-friendly equation with her superstar husband. And now, if our sources are to be believed, a powerful social circuit comprising star-wives and some big producer-director nexus is at work to isolate Priyanka. They are also spreading negative stories about her. So intense is this force that it could ruin PC's flourishing career and possibly wipe her off the Bollywood map.
PC now even hesitates to mention SRK – this was evident when a reporter asked her at the Teri Meri Kahaani promotion that was there anyone, apart from Shahrukh Khan, who makes her blush? (Incidentally, when PC appeared on Karan Johar's (in)famous chat show last season, her admiration for SRK was written all over her face. Karan teased her with SRK's name and every time resulted in Priyanka flashing a coy smile and blushing like a teenage girl) to which PC said very sternly, "I don't think I said that (SRK makes me blush). I never said that." Clearly the pretty lady wants to move past her friendship with the superstar and the hoopla it caused.
Is Shahid willing to deal with the situation and affirm his bond with Priyanka? Only time – and us, of course – can tell!