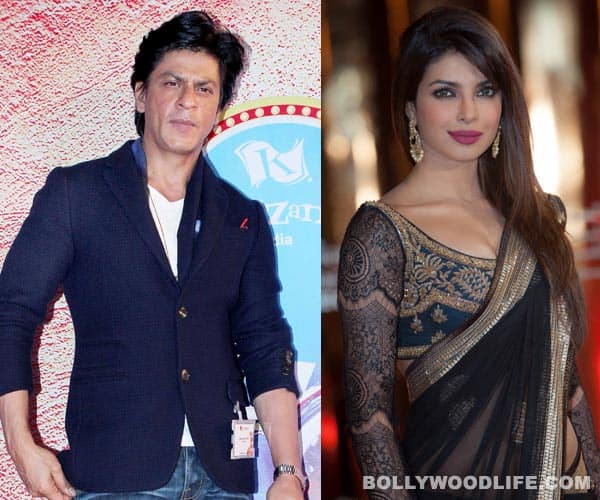 Are we missing the once supportive friends and Don co-stars together?
Priyanka Chopra is ignoring Shahrukh Khan, no we aren't saying so. But going by the recent turn of events we feel that all's not well between the once good friends Priyanka and SRK. Priyanka Chopra is on a high, especially with her upcoming Hollywood animation film Planes releasing this weekend. And PeeCee has decided to celebrate this moment with her near and dear ones. The actor will screen this movie at a suburban theatre today and has invited her friends from B-town including Hrithik Roshan, Ranveer Singh, Shahid Kapoor, Illeana D'Cruz, Kunal Kohli, Anurag Basu, we also hear that Ranbir Kapoor and Anushka Sharma who are currently shooting for their film Bombay Velvet in Sri Lanka will also try and make it. But the Exotic lady's good friend King Khan's name is not on the list of invitees despite the actor being in town. So has this friendship gone kaput? Certainly seems so, we missed SRK's wishes for PC on her birthday this year while the whole of B-town took to Twitter to wish the actor a happy birthday.
That's not it At a recent event when Piggy Chops was quizzed about Shahrukh-Deepika starrer Chennai Express she said she was too busy, "I have been very busy since the last six months. There are a lot of movies; I have to catch up with". We hope she does manage to catch her Don co-star's biggest film this year in time. But something was amiss. PC has always been an ardent SRK fan and many found striking similarities between the Badshah and his Jungli billi, but now looks like PC wanna look, act and be different. She is known to to be an entertaining actor both on and off screen. She has been all game for promotions just like Shahrukh, so we were a little surprised that PC didn't feel like entertaining the media, "I'm ready to talk about anything under the sun with media in a press conference but will not break into a jig for sure. I will not entertain you guys"
Was this a direct taunt to Shahrukh Khan who has been in his dancing shoes ever since the promotions for Chennai Express started? Well only PC can answer this. But ask us and we think that PC's jig on stage would have been far more entertaining than her repetitive answers to promote her film. Our suggestion is, Priyanka better get your act on the stage right and take a cue from the most entertaining Khan may be. What say?