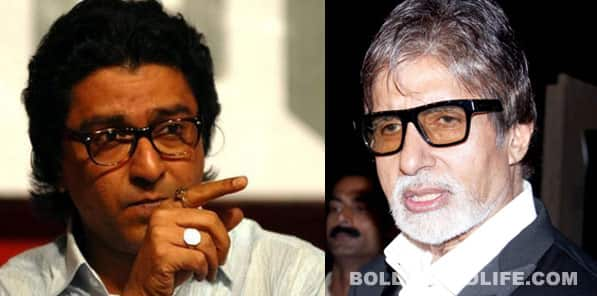 When Maharashtra Navnirman Sena ( MNS) chief Raj Thackeray met Amitabh Bachchan at Shanmukhananda Hall today, there was tension in the air. But Raj used his words craftily to diffuse the stress and wondered if he continued to be a hated figure even as Big B keeps winning love and appreciation. Big B wooed the audience with his elegant presence and larger-than-life personality…
Diplomacy was at its best when the king of Bollywood Amitabh Bachchan and MNS chief Raj Thackeray shared the dais at the seventh anniversary function of the MNS Chitrapat Sena. Ever since the senior Bachchan expressed his wish to grace the event, speculation was rife about whether the megastar and the aggressive political leader had buried their hatchets, and not in each others' backs. Relations between the Bachchans and the MNS chief turned soured after Big B agreed to become brand ambassador for Uttar Pradesh over five years ago.
Putting the past behind him, Bachchan inaugurated the MNS' scheme to offer insurance cover to the movie industry's technicians and junior artistes. The packed-to-capacity Shanmukhananda Hall saw the two biggies sharing a stage.
While Bachchan opened the speech in Marathi to rapturous applause, Thackeray used diplomacy very cleverly. Recounting an incident when he bumped into Big B recently at Sachin Tendulkar's bash he said. " At Sachin's party I saw Big B, Lata Mangeshkar and Master Blaster himself gathered at one side and I wondered how all these people are worthy of praise and accolades, while we are worthy of hatred."
Raj went on to call Bachchan the 'best artiste of the century', while the superstar maintained that he was happy to have been honoured by the MNS chief and would always be with them for any future endeavours.
It was indeed a treat to watch the two gifted orators using their words to best effect to bury old animosities and reaffirm that whatever happened in the past should remain in the past. They also confirmed that they had no bad feelings on a personal level. Will this amity last? We sure hope so!