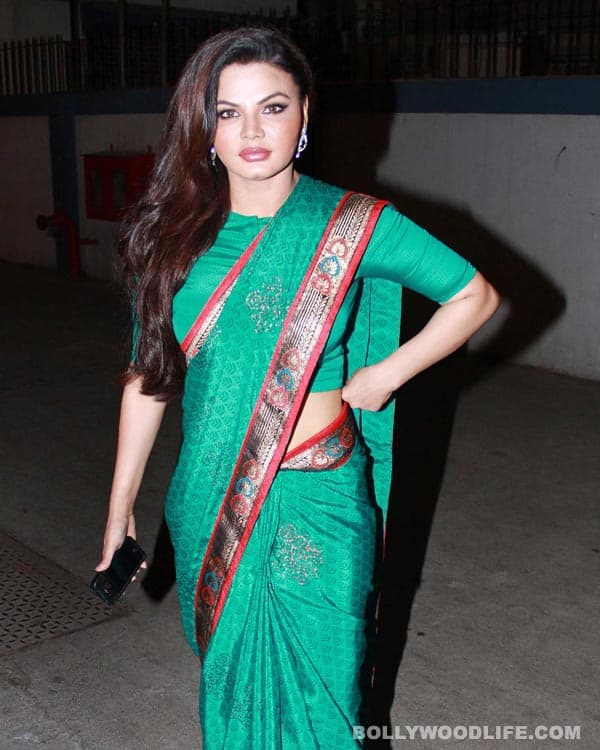 Now that the motor-mouth Sawant is aiming to change her notorious image to enter politics, we wonder what will Rakhi's party name be. Do you have any suggestion BL readers?
Rakhi Sawant has been keeping her loud mouth tightly shut these days. Ask her how she has stayed remarkably controversy-free for all these months and pat comes a politically correct answer. " Yes, I have been quiet for the past two years. I was not involved in any controversies because I want to change my image completely now. I don't want people to think that I do everything for publicity. The main reason behind this image makeover is that I plan to join politics," said Rakhi in an interview to a daily. Now we wonder if Rakhi is heavily inspired from Arvind Kejriwal. Remember the babe even went on to call Kejriwal an item boy?
With those deadly 'political' plans on the cards we are now curious if Rakhi will join MNS-of which she was said to be a big fan-or the BJP. Miss Sawant has also been all praise for a certain NaMo's ideals and his progressive thinking. "Mujhe desh ka neta toh banna hi hai aur elections main kahin se bhi ladun, samaj seva karna meri priority hai. Rahi kiss state se ladne ki baat, toh main toh har jagah popular hoon mujhe kisi bhi state se ladwa lo. Main nahi jaanti main kaunsi party join karungi. Agar mujhe pasand nahi aaya toh mein apni party khud banaugi," blabbered the item gal with her trademark style.
Now no matter where she goes, Rakhi will kick a political storm and may switch loyalties as quickly as she changes those garish costumes to lago thumka on her item songs. But if ever she comes up with the idea of her own party what will Rakhi call her bunch of activists, we wonder. Do you have any suggestion in terms of a name or two for Rakhi's aggressive (read explosive) political movement?