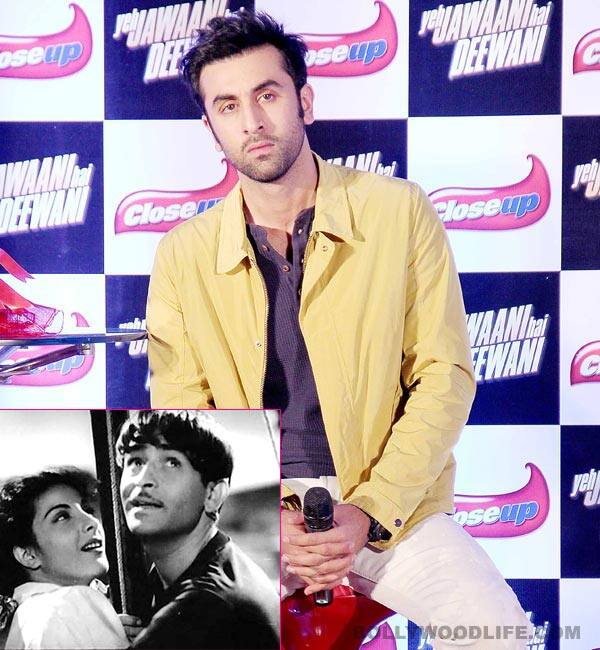 There was buzz that the father-son duo, Rishi and Ranbir Kapoor was all set to revive RK banner with the 1951 classic remake but that doesn't seem likely to happen. Is Ranbir to be blamed?
Ranbir Kapoor always dreamt of re-launching his grandfather, Raj Kapoor's prestigious production house, RK Films. There was also buzz that the Kapoor khandaan ka chiraag had found the perfect script to bring back the glory that his family banner once knew, but then he didn't really take it forward for reasons best known to him. But Ranboo's father Rishi Kapoor clarified a couple of months back that Awara remake is on their minds and in all likelihood they will recreate it with the father and son playing Prithviraj Kapoor and Raj Kapoor respectively.
But the latest we hear is that the Raj Kapoor-Nargis starrer classic is set to come back on screens once again. But this time we will get to see the great showman romancing Nargis in colour! We are told the Kapoor family is keen on retaining the rights under their banner and re-releasing the movie in colour.
But according to sources, the Besharam star wants the classic to remain untouched. At a recent press conference, Ranbir said, "I don't believe in remakes. I would rather want to do something on my own. RK studio was my grandfather's brainchild and his efforts. But if I want to make a film, I would set up my own production house."
It will be RK banner's first release after 22 years. Hmm…now we cannot wait to watch this classic back on screen!