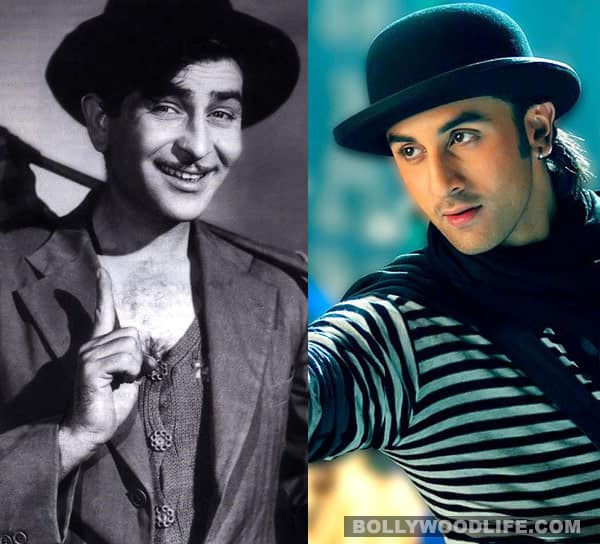 The actor's roles have uncanny similarities to his grandfather's onscreen characters
Belonging to a generation of Rs 100-crore star-oriented films that run parallel to small-budget script-based cinema can make an upcoming actor's prospects exciting…or else overwhelmingly commercial, depending on which path they choose to tread. But when you see an actor trying to carry forward a legacy that he has been lucky enough to inherit, and that too when coloured by the compulsions of contemporary Bollywood, it is heartwarming indeed! I am talking about Ranbir Kapoor.
Ranbir proved with his very first project Saawariya that he was born to be an actor. Despite the dismal performance of the film, offers began pouring in for the Kapoor boy immediately after its release. Being a Kapoor, producers and directors knew that he was in Bollywood for the long haul. And at that stage, when he could have easily gone on to do many larger than life roles, he chose his films with an amazing amount of clarity – something that comes to most heroes after a few years of experience under their thespian belts.
He chose to do smaller films – a couple of them with production house Yash Raj Films, which is a huge commercial enterprise – that gave him a great opportunity to act. It was obvious that there was something that this boy was trying to prove to the audience and to himself. And here's what I think it is.
Though underrated and known for his chocolate boy image, daddy Rishi Kapoor has come to be known as one of B-town's finest actors. But it's not his reputation that Ranbir is trying to live up to. This young gun seems more influenced by his grandfather Raj Kapoor's sense of cinema, and it is his legacy that he wants to carry forward. Ranbir has admitted that he wants to be a complete filmmaker like his grandfather, directing and producing films at some stage of his career, but in front of the camera too he seems more like Raj Kapoor than his own father Rishi.
The actor's roles have uncanny similarities to his grandfather's onscreen characters. There is an underlying sense of pain and tragedy to the roles he has played in films like Saawariya and Rockstar, just as the same qualities coloured Raj Kapoor's work in Awara, Sangam and Mera Naam Joker. Ranbir's comic antics in Ajab Prem Ki Ghazab Kahaani and in what we have seen of Barfi! remind you of the Chaplinesque humour that RK was famous for (and often criticised for too). This kind of slapstick comedy comes easily and naturally to Ranbir. The ability is a remarkable one, especially in times when slapstick is viewed as loud and cheap, thanks to the many superhit comedy film directors and their over the top productions.
Beyond that, the young rockstar, as he is being called, has a strange ability to make his audience sympathise with him – whether it was as the lost and endearing Sid in Wake Up Sid or the honest and innocent Harpreet Singh Bedi in Rocket Singh – Salesman of the year – just as his grandfather did in numerous films.
Raj Kapoor generally played the underdog and Ranbir has been doing just that in movies like Wake Up Sid, Ajab Prem Ki Ghazab Kahaani, Rocket Singh – Salesman of the year and Rockstar. And interestingly, these are some of his most appreciated characters. Now Ranbir is all set to show the world the face of a new underdog, the deaf and mute Murphy in Anurag Basu's Barfi!
If the first glimpse of the film is anything to go by, Ranbir is set to revive Charlie Chaplin's dark comedy of the silent era – visual, slapstick and mime. Obviously the makers will have to make sure that they modernise this style to meet current commercial pressures. Yet, I am confident that we will get to see a facet of Raj Kapoor once again.
But how did Ranbir manage to emulate RK in such a short time? It could be that filmmakers see these qualities in him as a person and as an actor, or it could be that he has been picking these roles subconsciously, deliberately. But more than anything else, Ranbir seems to believe that he has the potential to give this generation what his grandfather gave to cinema in his time. And we are sure that every comparison with grandpa Raj will only make the younger RK feel honoured!