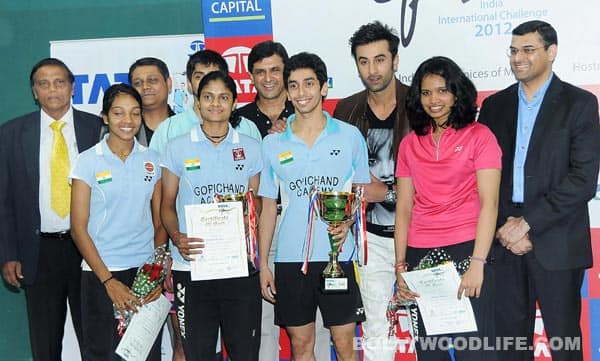 skip advertisement
The Rockstar was spotted having a deep conversation with Prakash Padukone at an event. What's brewing? We try and find out!
Yes, we know that Ranbir Kapoor is no longer in a relationship with Deepika Padukone. But none can deny that the two shared a long and extremely special relationship in the past. And maybe that's the reason why RK shares a special camaraderie with his ex's father Prakash Padukone.
So do we raise our eyebrows a notch up when we see the two men engrossed in a khusur-phusur conversation at the Tata Open Badminton Tournament? Not really. But we just can't help but wonder what the two might be discussing.
Sports? It's likely that Mr Padukone is sharing anecdotes from his hay days with the dude. Or are they discussing relationships? Maybe the doting dad is pointing out where Ranbir went wrong in the relationship with his daughter. But that's pretty unlikely, no? 'Coz public events are not a place to discuss such touchy topics, right? Or is the conversation revolving around designer boots? Looking at Prakash Padukone pointing downwards really makes us think that's what is it. Yawn!
How we wish we could have eavesdropped on THAT conversation. But while we let our imagination run wild, what according to you, dear readers, was the topic of discussion between Ranbir Kapoor and Prakash Padukone?
Photos: Yogen Shah