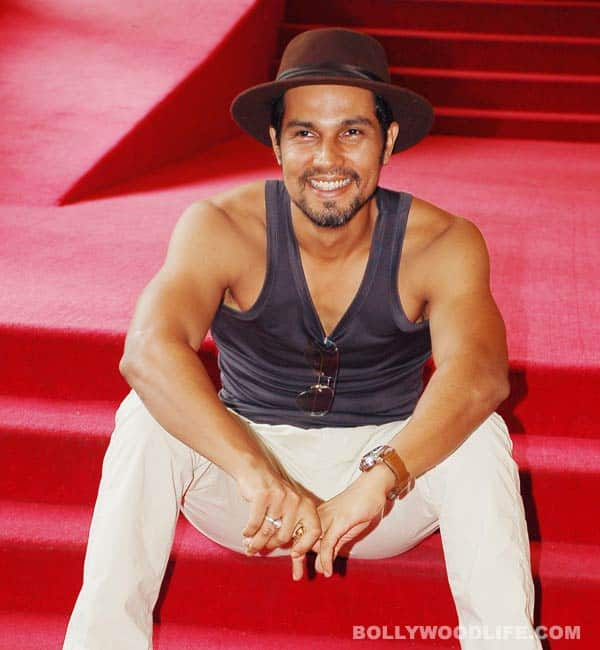 That he has immense love and passion for horses is old news. But this insanely hot dude might even prefer horses to movies… Read on!
You own five horses and you are often seen at the Mahalaxmi race course. How do you balance films and the horses?
It is indeed a tough balance. But then I don't do a lot of other things, I am not much of a social animal so this is my time-out to myself.
So film parties are not for you?
Well I go for parties but not too many and they are held during the night anyway. But when I am not shooting, this is the best way to kill time but then I also compete.
What drove you towards horses?
I watched 'The Good, the Bad and the Ugly' and became a fan of Clint Eastwood and the horses he rode. Since then, I wanted to ride horses.Though there was a gap in between but I am glad I have got back.
Hot n' sexy Randeep Hooda unzipped!
You also bought a polo team last year to compete in Indian polo season..
But that is not functional yet. It is still under process but I do Show jumping and all with my horses. My stables are here at the Royal Western India Turf Club.
Any other movie star who rides with you?
Naseer Saab (Naseeruddin Shah) rides very well, Milan Luthria (filmmaker) also rides. So I think it is just the three of us.
Do you all hang out together on the track?
Very often we do. Milan and I meet pretty often, he comes at the race course with his family. Naseer Saab has not come for a while but he is quite an avid rider.
Randeep Hooda kisses a man again: see pic as proof!
Talking about films, you have a release, Highway, coming up in February. How was it working with Imtiaz Ali?
Working with Imtiaz was superb, a very nice guy and a great director.
Did you watch his earlier films?
I had only seen Rockstar and I liked it.
Isn't Alia Bhatt too young to be cast opposite you?
Oh! Come on. She is not that young also. She has crossed her teens and is 20 plus (laughs) though she looks very young. However, she is very sweet and has done a great job. I am very fond of her.
And how does it feel to have the music of AR Rahman in your film for the first time?
The music of the film is great. We all know the genius Rahman saab is and his partnership with Imtiaz makes it stronger. The soundtrack of the film is exceptional and it has been made keeping in mind the pulse of the movie and the places we have travelled.
Where all did you travel and how long was the shoot schedule?
Around two-three months. We travelled around six states – Delhi, Haryana, Punjab, Rajasthan, Himachal Pradesh and Jammu and Kashmir.
You were really applauded for your character in Tigmanshu Dhulia's Saheb Biwi Aur Gangster (2011), when do we see the magic both of you created once again?
Well, I have only done one movie with him. Thank you very much that you liked it. There is nothing in the pipeline as of now but I am open for anything that comes my way. Not only Tigmanshu but it applies to others too. Whoever gives me a good role, I am up for it. As an artist, one should always be hungry for good characters.
Your role in Bombay Talkies (2013) seemed challenging. Did you expect Karan Johar – who comes from the Yash Raj school – to make a film like that?
I am already doing a movie with an ensemble cast which Karan is producing. And I think apart from being a fantastic producer-director, he is also a great actor. It was not surprising to see him come with that script, he is talented.
Alia Bhatt and Randeep Hooda make love – view pic!
Any recent film you saw which caught your eye?
Umm..nothing caught my fancy as such.
Which was the last film you watched?
American Hustle (2013) and I found it pretty good.
Bollywood?
It's been a while I have watched one. I have been too busy working and I come and ride horses instead of watching films.
(The actor unveiled the Indian Derby 2014 trophy at the Mahalaxmi race course in Mumbai on Thursday)
Story text and image courtesy DNA