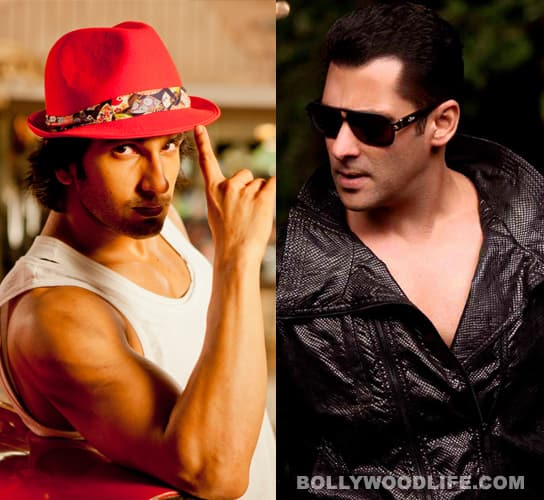 While B-town's big stars struggle with punctuality and maintaining a work ethic, younger actors like Ranveer Singh and Katrina Kaif are setting new standards in professionalism
By now, the media is tired of Shahrukh Khan's habit of turning up late for all events. Though the actor is not that bad when it comes to making it to a film set on time, he still has a long way to go. Salman Khan too is famous for turning up late for his shoots. He hates morning schedules and most directors avoid shooting early when they are working with him. At one time Akshay Kumar was praised as one of the most professional stars, but he too has slipped a bit over the years.
Big stars always have the excuse that they have too many commitments and meetings, which leads to them being late for anything. Aamir Khan, who is also in the big league, is an exception and is known to turn up early for his shoots. So if Aamir Khan, why can't the others? Or does this Khan-man have fewer dates – and times – to keep?
While many of the big stars still struggle with punctuality, the younger breed of actors is making sure that they set an example in professionalism. All the crew members of producer Vikas Bahl's Lootera have been extremely happy with Ranveer Singh for being the first to arrive on the sets during the early morning shooting schedule of the film. The actor would turn up even before the unit was ready, with his hair and make-up done. Vikramaditya Motwane, the director of the film, has been raving about how committed and professional the actor is and how his enthusiasm has been rubbing off on the rest of the cast and crew.
Now if Ranveer is receiving heaps of praise for being on time, Katrina Kaif is one of the few female actors who is always ready with her makeup and styling before the stipulated time. Despite Imran Khan being quite a punctual guy himself, Kat would beat him often at the time-game during the shooting of Mere Brother Ki Dulhan and later, at promotional events for the film. She would arrive before the stipulated time and wait for Imran to turn up. Kat is usually lauded as one of the most professional actors in the industry today. It's probably her attitude that she is doing a job that helps her.
While a lot of actors are known to throw tantrums during magazine and cover photo shoots – like taking their own time to get ready, fussing over outfits, demanding privileges for coterie, etc – Vidya Balan is known to be extremely professional in these matters. Last year, when she shot for a magazine cover, the editor raved about how Vidya turned up on time and stayed till 4.30 in the morning to complete her shoot. And even though she was quite self conscious about the clothes that weren't too flattering to her body shape, she was quite sporting and didn't create a fuss.
Valuing the work ethic is not entirely a new phenomenon, but it was rare in earlier days. In the 70s stars were known to come to the sets according as per their own will and fancy, making the whole unit wait. Rajesh Khanna, who was the biggest star at the time, was known to make a late entry to almost anything. When Amitabh Bachchan rose in the ranks in the late 70s, he became known for his work ethic and professionalism. Even today, Bachchan is known to come to the sets well-prepared and on time.
In the 80s and 90s professionalism was not that important. Many actors took advantage of their stardom. Govinda was famous for being at least two hours late for his shoot, often not turning up at all. Towards the end of his career, the work culture in Bollywood had begun to change and he struggled to stick to schedules. Many producers avoided signing him for the fear that his erratic behaviour would delay their films.
Today, the scenario is slightly different. With higher production costs and strict shooting schedules, there is more pressure on stars to keep to deadline. Priyanka Chopra, who is one of the busiest actors in Bollywood, is a preferred choice for producers and directors, as she never cancels her shoots. A few years ago, life in Mumbai was disturbed due to a heavy downpour and a lot of B-towners had to cancel their shoots. Priyanka, who was shooting for Dostana then, made it to the sets on time, all geared up to shoot, even as the rest of the crew trickled in one by one. Even the director, Tarun Mansukhani walked in much later, as he battled the floods. We hear that Priyanka is quite paranoid about getting to work late and makes it a point to leave her home well in advance, even if that means reaching her destination long before time.
While several actors like Deepika Padukone have been blamed for unethical and unprofessional behaviour because they walked out of films, there are some actors like Kangna Ranaut and Mallika Sherawat, who have been blamed for not promoting their movies. Let's hope that along with learning lessons in punctuality, this young breed of actors also starts keeping to their professional promises. Especially since, unlike yesteryear's stars who could get away with walking out of a film midway, today there are several legal implications to these actions.