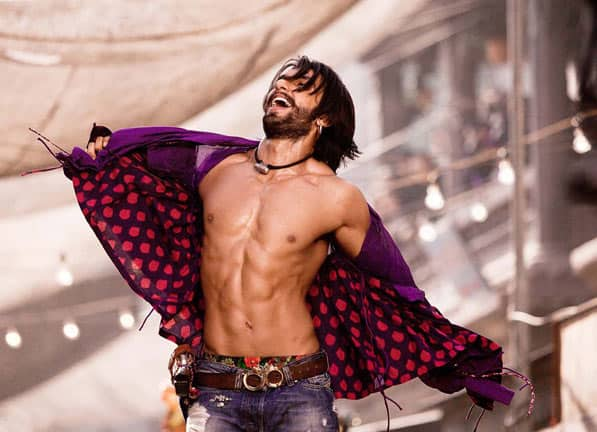 It seems that the Ram-Leela actor's shirtless avatar is jinxed. But why?
Be it in Ram-Leela or in Ladies Vs Ricky Bahl, Ranveer Singh's female fans go crazy when the hot hunk takes off his shirt to flaunt his chiseled body on-screen. But what if we tell you, that Ranveer's shirtless avatar is jinxed? Surprised? Well, the Ram-Leela actor's mother thinks that her son has suffered every single time he decides to take his clothes off.
"Ranveer's mother feels that her son is the unwitting victim of black magic and that going shirtless brings him bad luck. The first time Ranveer went shirtless for Gunday, he met with an accident during a dance sequence, which in turn left him with a gash on his cheek. Then came another shirtless scene that he shot in a mud pit, and soon after, he was hurt by a stray piece of glass that cut into his leg." a source close to the actor was quoted by a tabloid. It is because of these reasons that Ranveer's mother wanted Ali Abbas Zafar (director of Gunday) to remove Singh's shirtless scenes from the film.
"In fact, his mother can't seem to ignore the fact that it all started with his shirtless look in 'Ram Leela', after which he fell prey to a bout of dengue," the source further added.
Well, if that's the case then it looks like Ranveer's female fans will be quite disappointed. After all, don't the ladies just love Ranveer's enviable bare chiseled body in nothing but a low-cut dhoti? Imagination running wild, ladies? Wink!