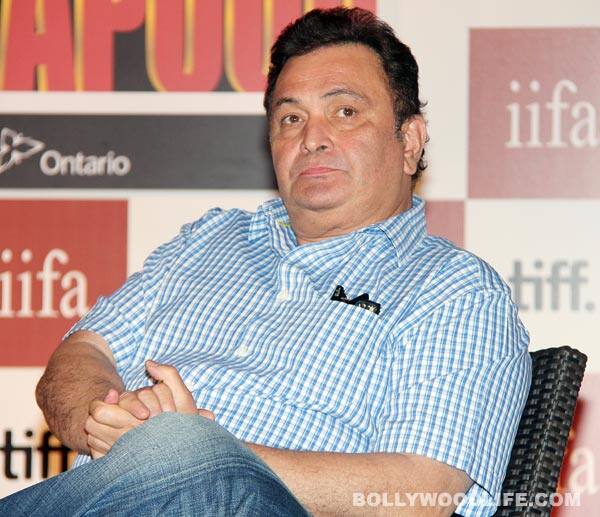 Going by what Ranbir Kapoor is saying, it seems that papa Rishi goes red in the face when the media tries to ask him about sonny boy's recent beach vacation with Ms Kaif
Ranbir Kapoor has finally broken his silence on Katrina Kapoor's bikini pictures that were leaked in the media some days ago. The casanova Kapoor was spotted with Kat on the beach, savouring the Spanish sun, sand and sea.
While the leggy lass was in a teeny-weeny bikini that put on display her hot bod and long legs, Ranbir was shirtless, frolicking with his lady. But now it seems that the fun of that episode is fading and life is getting a tad too serious, thanks to the endless media speculation about Kat and Ranbir's ever-growing fondness for each other.
Unfortunately, some nosey journos have been dragging Ranbir's father Rishi Kapoor into the colourful drama for no real reason except that he is the Besharam star's daddy. And obviously, Ranbir is upset that Papa has to answer uncomfortable questions about beta's pleasure trip with his rumoured – now practically a given fact – girlfriend. "When the media asks my father questions about my personal relationship with a girl, he gets flustered because he doesn't know how to answer," said Ranbir recently.
But why does Rishi Kapoor bother answering at all? After all, he's been in the business for so long, he can easily skip over questions that he does not want to answer, no? Isn't all the speculation and scrutiny an inescapable part of showbiz? Kapoor Sr could easily tell the press to shhhh and leave Ranbir to stand up for himself and his deeds, no?
And while we are at it, let us get this straight: What exactly is Ranbir's take on those pictures that have miffed Kat, apparently for not highlighting her best features? We asked and were answered with "Yes, I liked the pictures and I think Katrina looked sizzling in the bikini," the Besharam star responded.
There goes Ranboo at his candid best! Now we wonder what took him so long to comment on the photos that showed off his very personal moments… Had he tweeted his 'personal' opinion much earlier, it would have saved papa Kapoor getting flustered on that embarrassingly shameless probing by the media, no? Tch tch!