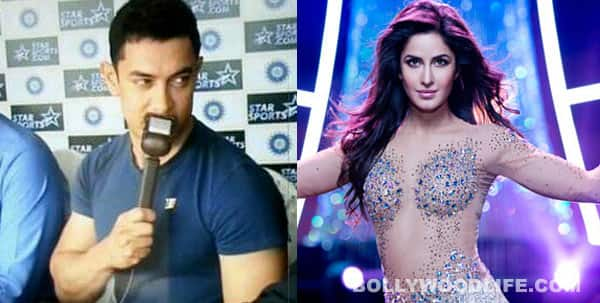 The Dhoom:3 actor clearly chose the Master Blaster over his co-star and the song launch of the film…
Aamir Khan was to launch the Dhoom machaley song along with his heroine Katrina Kaif today at 4 pm in Mumbai. However, the event was delayed because of Mr Perfectionist's cricket commitment. Aamir was one of Sachin Tendulkar's special guests at the Wankhede stadium today. The actor turned up on time in his lucky T-shirt and even took the commentator's seat during the match. We all know that AK is superstitious about Tendulkar's matches and understand that he didn't want to miss the last few overs of the game. And this, for his busy co-star Katrina Kaif, definitely must have been a dampener – the baddie of the new film decided to choose the match over the launch and delayed the event for a few hours. We hope that when AK meets Kat at the do tonight – if it is held, after all – he finds ways to make up for the delay he caused.
Perhaps Kat can give a double performance today – one for the media that will be waiting for Aamir's arrival and another for Aamir Khan, who might be tired of all the action at the stadium. We're sure that Aamir will bat for Kat as well as he did for Sachin paaji at Wankhede – when and if he ever turns up, that is!