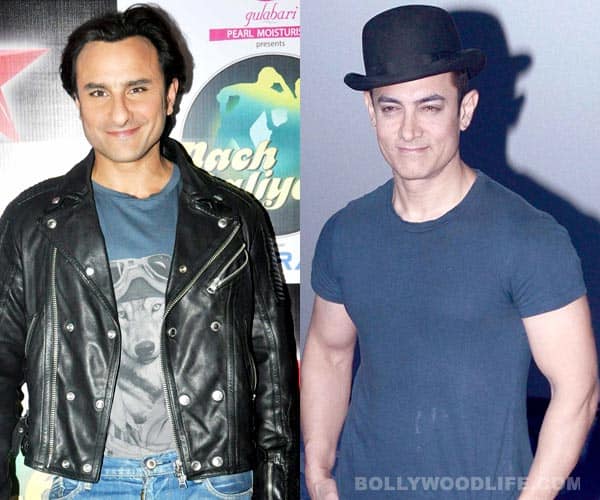 The whole Pataudi khandaan was spotted endorsing Main Kuch Bhi Kar Sakti Hoon, a show based on women empowerment
Saif Ali Khan, Kareena Kapoor Khan and Soha Ali Khan were recently spotted at an event for promoting a social cause. The khandaan which is known for undertaking several such activities in Pataudi is now associated with the show called Main Kuch Bhi Kar Sakti Hoon, which has a nationwide approach. The show is backed by the Population Council of India and would be aired on Doordarshan. What we couldn't stop noticing is that the show has similarities with Aamir Khan's Satyamev Jayate. Both the shows are aimed at bettering the Indian society by showing the ills that are being done at present.
The makers of Saif's show maintain that the basic idea of the show is to tell the people of the country as to what women are capable of and not have any comparisons with Aamir's show. This new show aims to commemorate some special women who have done some exemplary work for bettering the society. The show would also educate women on their fundamental rights towards education, decision making, etc. Sharmila Tagore, Saba Ali Khan and Saif's children were also present at the event. The entire family has shot for some promotional activities for the show and talk highly about the necessity of such a show in the Indian community. Talking to a leading daily Soha says, "The show is all about women's rights, family planning, the age to get married, when to have children and how many. We are all endorsing it. We have shot promos for it. We will also come on radio and talk about it."
Now we don't know whether Saif is trying to ape Aamir by endorsing this show, but it would be good if it isn't. We hope such a show would be just as well received by the audience as Satyamev Jayate. We hope that the audience is able to grasp the good ideas behind the making of these shows rather than just watching them to find a comparison as to which one is better. Hai na peeps?