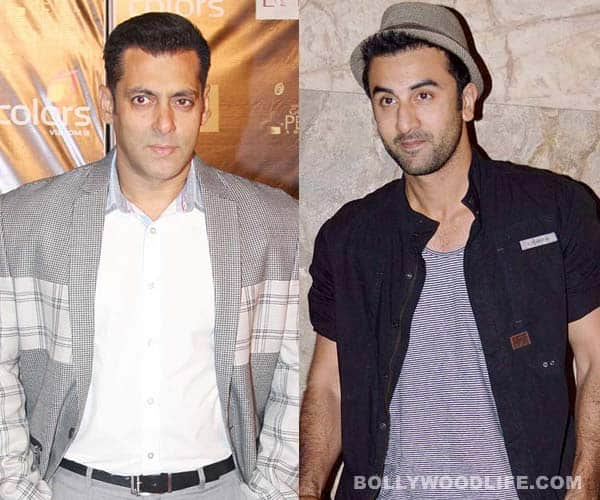 The superbrat Sallu was at his candid best during the opening episode of Koffee with Karan 4
It was one heck of an explosive first episode of the fourth season of Karan Johar's hit chat show Koffee with Karan. And why not! With a guest like Salman Khan on that controversial couch we were pretty sure that there would be a lot of fireworks on the show. And there were. The hour-long opener had many memorable moments, but the most notable came when the outspoken star took a whip to his former girlfriend Katrina Kaif's rumoured current boyfriend Ranbir Kapoor not once, but quite a few times.
When Karan asked Salman which director he would like to work with next, he replied with 'Karan Johar' and added, "But Karan Johar doesn't want to work with me. Who have you signed on next? You've signed Ranbir Kapoor. He's taking away everything, yaar…this is not fair!"
Then during the famous Rapid Fire round, on being quizzed what he would do if he woke up as Ranbir one morning, the Dabangg Khan replied with: "Ranbir lucky hai, ya main?" And when asked what he would do if he woke up one morning as Katrina, he grinned, "Where's Ranbir?" And we just couldn't control our laughter. Salman didn't stop there. With Karan's list of 'What kind of advice would you give to the following people?', the Dabangg Khan had his retort ready. For Ranbir he said, "Have fun". And for Katrina, "Don't let him (Ranbir) have fun"!
It was clear that Salman has developed strong feelings for Ranbir, and not very friendly ones. But whatever his reaction to his former ladylove and her new man, it was a treat to watch the Bodyguard hero on Koffee with Karan season 4. Now that he has made his debut on the show and got full marks for his frank and open responses, we hope we see more of him on the black leather couch. We know you agree with us when we say that, hai na?