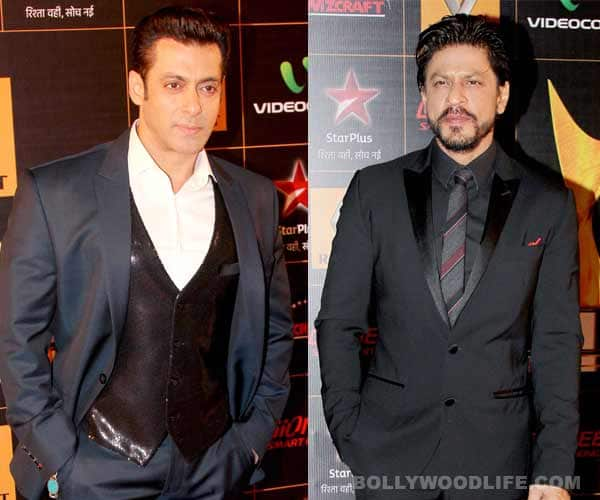 Salman and SRK's equation may not change and the two may continue avoiding each other. But it seems the former is trying to be more like his Karan Arjun co-star. We wonder why…
Both Salman Khan and Shahrukh Khan are superstars in their own way. However, what sets them apart is the way they conduct themselves personally and professionally. While King Khan has always been the cool one and people's person, his contemporary earned the tag of 'Bollywood's bad boy'. But looks like Sallu miyaan now wants to change his image and surprisingly has found inspiration in his arch rival SRK. Well, we say this because:
This year Karan Johar's chat show Koffee with Karan was extremely special coz it was Dabangg Khan and not KJo's favourite SRK who opened the show. SK made his debut on Koffee couch surprisingly everybody including us. Like Shahrukh, it seems even Salman wanted to share his side of story and appear more approachable, hai na?
There was a time when this Jai Ho actor was known for his mood swings and gussa. Off late, the superstar has become very cool like his Kuck Kuch Hota Hai co-star. In fact, he doesn't even mind talking about his exes openly.
Remember how stories about Sallu and Shahrukh camps did the rounds at one point? Well, Katrina Kaif's alleged ex-boyfriend now gets along with most of SRK's friends including his jigri dost and filmmaker Karan Johar. From Arjun Rampal to Priyanka Chopra to Hrithik Roshan, the bhai of Bollywood shares great rapport with everyone. Strange na?
Even professionally, Sohail Khan's brother seems to be aping the Chennai Express star. During the first poster launch of Happy New Year, Gauri Khan's hubby gave his fans a chance to get his film's poster with a personalised message and digital signature of himself. Salman too seems to using the same trick to promote his latest release Jai Ho. Like SRK, Sallu too took to twitter and asked his fans to tweet with Jai Ho to receive a personalised poster from him.
Lastly, the Wanted hero like his kabhi-dost-kabhi-dushman has become chivalrous. Salman has indeed mellowed down and doesn't mind being media friendly. Now this will surely help the Robinhood of Bollywood in the long run, wethinks. What do you think Bollywoodlifers?