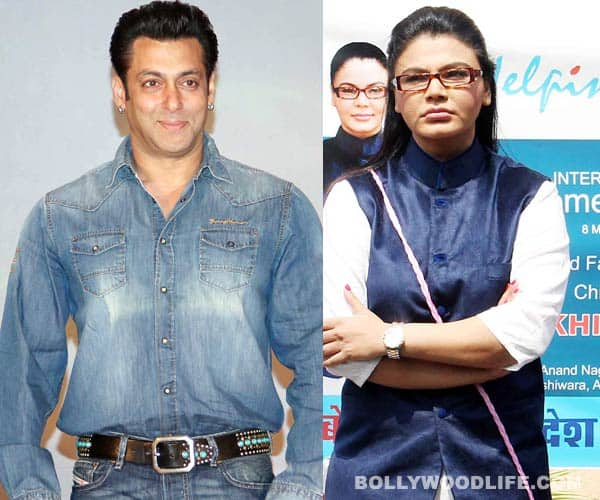 The Dabangg Khan has appealed to masses to vote for Mumbai North West candidate and Congress leader Gurudas Kamat in the upcoming elections. Considering that Rakhi is contesting election from the same constituency, is Salman trying to sabotage her political career by supporting her rival?
Salman Khan may never enter politics but his star power is such that he can turn tides for any political party just by backing it. So for the upcoming Lok Sabha elections, Sallu miyaan has decided to support Gurudas Kamat from Congress. In fact, the Jai Ho actor has even recorded a message and asked the voters to also support Kamat. Item girl Rakhi Sawant, who will be fighting from the Mumbai North West constituency, is now feeling the heat. We aren't surprised coz Salman is any day a bigger celeb than Ms Sawant and we all know how huge and loyal his fan following is. If SK has asked his fans to vote for Gurudas Kamat then we are sure they will. This means Rakhi's arch rival would easily win the election, no? But this starlet isn't going to give up her political career so easily. The sexy siren took to Twitter to get back at Bhai.
The former Bigg Boss contestant posted, "Salman Khan had requested people to vote for Gurudas Kamat, does he left loving poor people for whom his Being Human works. I request Bhai to visit North West Mumbai Constituency how Gurudas Kamat has cheated people in last 10 years." Looks like this bombshell believes SK is indeed creating hurdles for her new-found career. But wethinks that's not the case coz Sallu's good friend Mahesh Manjrekar is also contesting from Mumbai North West constituency but Khan isn't campaigning for him. Does that mean he is hampering Manjrekar's political career too? Absolutely not!
Well, Rakhi Sawant can go on bashing Salman on social networking sites but it isn't going to help her win the election. It will bring her in the spotlight but not get her votes. For that she needs a miracle!