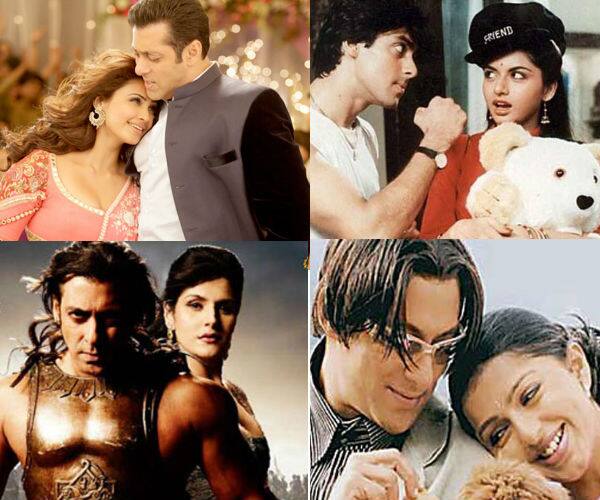 skip advertisement
The bhai of the industry has been living a curse that his debutant heroines don't get work later on. Is this true or just a rumour? Lets find out…
Salman Khan has been delivering hits after hits for a long time now. It is because of his demi-godly stature in his films that people generally overlook the leading lady in the film, resulting in the fact that their filmi career goes nowhere. Whether it is Sneha Ullal or Zarine Khan or Bhumika Chawla, all of them began their careers opposite Salman but failed to capitalise on the same. So that leaves us to think as to whether Salman's presence in a heroines' debut film is less of a boon and more of a jinx… Read on to find out…
Bhagyashree (Maine Pyar Kiya 1989)
The film was Salman's first big hit and it established him as the lover boy in the hearts of all young girls, but Bhagyashree, who played Salman's love interest in this all-time classic, failed to get any other movie offers post the film. The reason, as many put it, was Bhagyashree deciding to get married to her college sweetheart Himalaya Dassani. She made a comeback in films but decided to star only opposite her husband and all those films bombed at the box office sealing her fate in the film industry. Presently she is seen doing some blink and miss roles in various regional language films, but Maine Pyar Kiya still remains the only significant film in her career.
Nagma (Baaghi 1990)
Nagma had a great start to her filmi career opposite Salman but she failed to capitalise on the same. Many film directors considered her to have a high nosed attitude, which failed to get her more roles in Bollywood. Her career started fading and then she decided to concentrate more on South films. Eventually she also did a lot of work in other regional films and in the present times is considered as one of the topmost heroines in the Bhojpuri film industry. She has also been an active politician for some time now, however in the recently concluded Lok Sabha elections, she lost in the Meerut constituency.
Chandni (Sanam Bewafa 1991)
Salman and Chandni's love story was set on the backdrop of a family feud. The two were seen trying to defy family norms and traditions and get hitched as they were madly in love with each other. Although the movie didn't do that well at the box office, its music did well and the tracks are still remembered till date. Later on Chandni went on to do some forgettable movies and then her career faded into the oblivion.
Revathy (Love 1991)
Salman and Revathy's Love was a remake of a Telugu blockbuster and is remembered till date for its songs. Revathy was by then an established heroine down South and wanted to move to B-town, but Love failed to get her any good offers as a leading lady. The reason, as many state, was her thick south Indian accent. She went ahead to give a lot of blockbuster films in the South, but in B-Town she was nowhere to be seen after a few films. Although the actor later came back to do character roles and was praised. More recently, she was seen as Alia Bhatt's mother in 2 States.
Bhumika Chawla (Tere Naam 2003)
This musical hit film is till date remembered for Salman's hairstyle, which created ripples among his fans. At every nook and corner you could see boys having mid partitioned long hairdo and humming to the tunes from the film. Salman's love interest Bhumika Chawla received a lot of fame among audiences and appreciation from the critics, but her next few films bombed at the box-office, which pushed her to take up some projects down South. These films too did'nt do much to save her career.
Sneha Ullal (Lucky: No Time For Love 2005)
This film was entirely shot in Russia and was hyped a lot before its release because of Sneha Ullal's uncanny resemblance to Aishwarya Rai. At that time, Salman was recuperating from his break up with Ash, and therefore Sneha's resemblance catapulted her into fame. The film didn't do well at the box office and the petite actor failed to capitalise on the fame received before the film. Though she did a few South films, she doesn't have any film offers at the moment.
Zarine Khan (Veer 2010)
After searching Aishwarya's lookalike, Salman managed to find Katrina Kaif's lookalike in Zarine Khan. Salman had then recently broken up amicably with Katrina and Zarine's resemblance to Kaif gave her much more fame. Veer bombed at the box office and so did Zarine's career. After a lot of desperation she was seen among the many heroines in Housefull 2, which failed to save her sinking career. Salman once again tried to salvage her career by offering her the Character dheela hai song in Ready. The song was greatly appreciated but not for Zarine but for Salman's antics. She is presently waiting to work opposite Salman once again in Partner 2, which is still far from being made. She has meanwhile been doing some regional language films, which seem to be doing good.
Daisy Shah (Jai Ho 2014)
Daisy Shah is the latest one to join this list but it seems Salman's blue eyed girl doesn't have anymore movie offers. Jai Ho was a big hit in Salman's career but the film didn't manage to break any of the previous records set by Salman's films. Thus soon enough Salman also lost interest in Daisy and is nowhere seen exchanging pleasantries with her. Jai Ho didn't show much of Daisy's acting abilities and therefore any other director is wary of casting her in their films.
Although there have been instances which negate the jinx as well. Sonakshi Sinha had a grand debut opposite Sallu bhai in Dabangg. And if we leave aside the blink and miss roles in Boom and Sarkar, Katrina Kaif's first big film Maine Pyar Kyun Kiya was also opposite Sallu miyan. We still think it's a jinx that new heroines are cursed by when they debut opposite Salman. So should new heroines stop making their debuts opposite Salman Khan because of this jinx? What do you think BollywoodLifers?