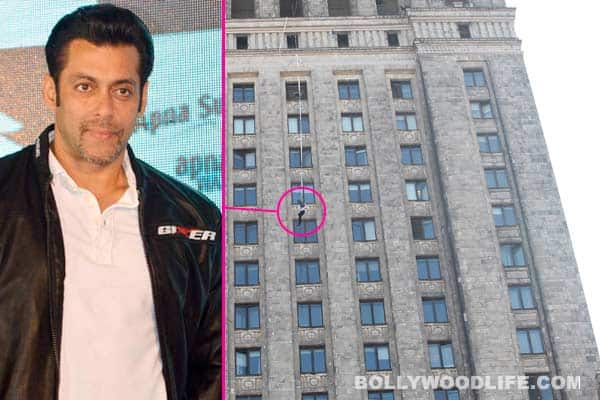 On and off the screen Khan is known for his Dabangg attitude. So we weren't surprised that Sallu miyaan grabbed headlines for doing a daredevil stunt on his own for his upcoming film Kick. But wethinks the superstar is lying about his 40th-floor-hanging act. Read on to know why we say so
There is no denying the fact that Salman Khan is one of the fittest actors in Bollywood. Every time he takes off his shirt onscreen, you know that perfectly toned body just can't get any better. But it does and Salman keeps surprising us, hai na? In fact, one reason why this Khan stay fit is coz he loves doing stunts in his own films. From jumping to leaping to running after a bike to punching 10 goons at a time, SK has done it all and quite well over the years. But the Jai Ho actor went one step forward for Sajid Nadiadwala's directorial debut Kick. We hear recently while shooting an action sequence bhai hung from the 40th floor of Poland's tallest building. Apparently, the Dabbang actor decided to do this stunt on his own without using a body double. Now that's impressive only if it is true. Somehow we feel the Tiger of Bollywood hasn't really done the hanging stunt and here's why…
First of all, you don't get to see Salman's face in the image that has gone viral on the net. So we really don't know who is actually hanging from the 40th floor.
Then we know Sallu miyaan has four body doubles for doing different kinds of action sequences in Kick. So if Khan was keen on doing the dangerous stunts himself, there was no need for roping in not one but four body doubles in the first place, right? Doesn't really make sense, no?
Also, ever since Khan was diagnosed with nerve disorder, the actor has been more cautious about his health. Since his khatron ke khiladi days have passed, we are sure Salman wouldn't risk doing such a daring stunt coz if gone wrong it would not only affect his health but his films too.
Well, our assumption could very well be wrong and that's okay coz we are just saying all of this on the basis of what we know and what we have seen so far. Maybe Salman Khan has indeed done this stunt on his own. In that case wethinks his ex-girlfriend Katrina Kaif must have inspired him. After all, the Dhoom:3 babe is doing her own stunts in Kabir Khan's Phantom remember?