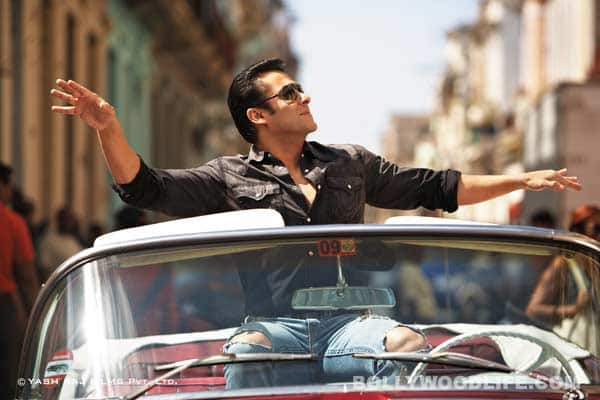 The Dabangg dude has laid out a strange new condition before giving his nod to a film's producer. But will anyone accept his terms?
Producing films is perhaps one of the biggest gambles that any money-person can dive into. And since they are the ones in control, most mainstream Bollywood films – and their stars and directors – are governed by the producers' whims and fancies. The moneybags arm-twist directors, cast their favourite actors and generally think that the world revolves around them because they provide the funds for the film. That was the scenario till the Khans took over to rule in the power palaces of B-town. It is well known that producers investing in a film starring Shahrukh Khan, Aamir Khan or Akshay Kumar keep a major share of the BO pie and share a fraction of the profits with the leading men, the 'how much' depending on their individual clout at that point in time.
Thanks to his gold run at the BO, Salman Khan has chosen to turn this game on its head, reports a tabloid. Till now, it was the producer who paid the stars; henceforth the Wanted star will pay his producer a fixed salary and stash the remaining booty in his own coffers. So a producer who on a good Friday could have laughed all the way to the bank with, say, Rs 150 crore for funding Salman's film will now be sent home sulking with a paltry Rs 15 crore or less. Our favourite exhibitor friend explained, "It is a very smart on Salman's part to milk his stardom dry, but with this new rule he also stands the risk of stopping established players like Yash Raj Films and Dharma Productions from queuing up at his door."
About Sallu's new stance he added, "The only producers who will accept Tiger's new rule will be those who aren't sure about the BO fate of their film. That way their money will be safe, irrespective of the film's fate. But it has to be noted that Salman will not agree to do a film if he doesn't think it will be a surefire blockbuster hit. So basically the odds are stacked against the producers, while Bodyguard Khan flexes his muscles all the way to the bank." In a recent interview, BO number cruncher Taran Adarsh said, "Salman deserves this. Just by agreeing to do a film for any producer, he is doing a big favour."
Trade analyst Indu Mirani is of the opinion that there is perhaps something wrong in the reports. It would only make sense, she believes, if Salman becomes the co-producer of all the films that he acts in. If that isn't the case, why would any producer invest his money when he knows about the limited returns he would eventually get? Stars co-producing films has been the norm in Bollywood, but giving a fixed remuneration to a producer defies logic. It might work for a producer who perhaps doesn't have a potential blockbuster in the making, Mirani foresees, but in that case, why would Salman even do a film that doesn't have 'blockbuster' written all over it?
We wonder what will happen now that most wanted Khan in Bollywood has upset the applecart…. Will producers stop investing in his films? Will he turn producer himself? Watch this space…
ALSO READ: Do you want to see Salman Khan-Katrina Kaif together again?