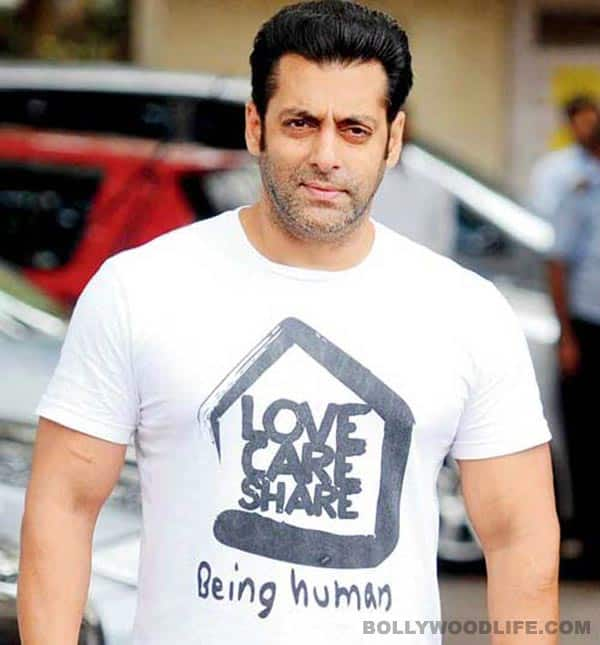 He may be making friends and re-bonding with foes, giving his time and his money and helping people, but how genuine is it all? We are starting to wonder…
Over the past few months Salman Khan has been on a make-up spree. No, we don't mean the stuff you put on your face to look more beautiful, but the being nice again to people you had fights with thing. Yes, it all started with the now-famous iftar party hug that SK shared with Shahrukh Khan, his avowed arch-enemy after an argument at a certain young actor's birthday party a few years ago. Remember the hullabaloo about that very polite and fairly distant clinch at Abu Azmi's do? Of course you do! Since then, Salman has been going overboard with the niceties. On Koffee with Karan, he insisted that he and SRK were never enemies, but their paths rarely converged since they were both such busy people. And then he hugged the Chennai Express star during a recent awards event, onstage, in full view of a huge audience.
But there is more to Salman's metamorphosis than his overtures to Shahrukh. Over the past few months the star who has usually avoided public appearances to promote his work has been seen everywhere, being friendly, laughing, talking, having fun. He has been on Karan Johar's chat show – a first, remember? – he has hijacked Comedy Nights with Kapil with his charm and madcap antics, he has done a little jig on a dance reality show, he has had a staring match with Shilpa Shetty on another one…Salman is everywhere these days, doing everything, not caring if he is making an ass of himself or not. And he has been talking a great deal, far more than ever before, about his work, his life, his family, even his lovers. And while we like all that, yes, we are gossip journalists, after all. And we are most naturally suspicious by this oh-so-amiable behaviour from a man who is known more for his very fights and his monosyllabic answers to questions than his silly jokes and his crazy camaraderie. It cannot be just for his new film Jai Ho, since a Salman Khan movie is almost guaranteed to be a super-successful hit. It cannot be merely to show off a 'good' image to make the verdict in his various court cases more favourable. It cannot be only to pull in funding and positive feeling for his foundation, Being Human. What is this new public face of Salman all about?
All we can do is wonder, since we have not got a straight reply from the man himself. Do you have answers to this puzzle? Do tell us!