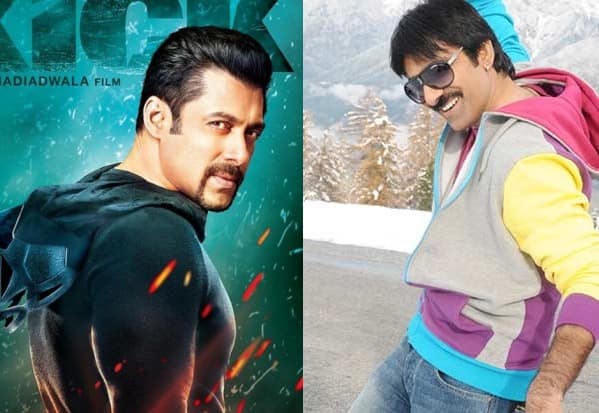 While Sajid Nadiadwala's directorial debut is enjoying super success at box office, we compare Hindi remake with its Telugu namesake to find out how similar or different are the two flicks
We are sure  most of the Salman Khan fans have got their 'Kick' this Eid. And those who haven't are probably queuing to the theatres right now. With unprecedented fanfare surrounding the film, Kick is expected to break all records, easily beating its Telugu namesake in terms of box office  collections.  While Bhai's Kick is ruling the roost at box office, Bollywoodlife brings you a fun comparison between Salman's Kick and Ravi Teja's Kick ( PS – The two films have much more in common, but we don't want to give away spoilers)
Similarities:
1. The basic plot of both the films is more or less the same as it tells story of an eccentric guy who gets a kick in doing unconventional things in life.
2. The reason why Salman and Ravi Teja become robbers is the same ie to help every ailing child in the country.
3. Both the films have an animated flashback which gives us a background about our hero's childhood and his addiction to kick.
4. Both Salman Khan and Ravi Teja refer to the cops Randeep Hooda and Syam chasing them as partners, and call them losers when they fail to nab them.
5. The introduction scene of both the heroes is similar as the  heroine tells the tale of her ex lover to her prospective husband on a train.
6. Both Salman and Ravi Teja have crooned for their respective films.
7. While Ravi Teja speaks in Hindi in Telugu flick, Dabangg star returns the favour by delivering Telugu lines in Kick.
Differences:
1. While in Telugu film, the hero and the cop share the same name Kalyan, that is not the case here in Bhai's Kick.
2.  Jacqueline Fernandez plays a psychiatrist unlike Ileana D'Cruz  in the original whose profession was not disclosed.
3. There is a separate hilarious comedy track involving Brahmanandam who gets tricked by Ileana into falling for her. But Salman's film has no such comedy track.
4. The way our leads fall in love is also different. In Dabangg Khan's Kick, the hero woos the heroine by constantly following her, impressing her with his crazy exterior with a good heart inside. In Telugu film, Ileana's sister falls for Ravi Teja who inturn reveals he loves Ileana leading to hilarious  repercussions.
5.  There are subtle differences in style of robbery too as Salman wears Devil mask but Ravi Teja keeps on changing his mask for every robbery. Also Bhai loots money from corrupt only on festive days, while no such thing is mentioned in Telugu film.
6. Nawazuddin Siddiqui's character who plays the baddie in Kick, proving to be Devil's perfect nemesis, is missing in Ravi Teja's Kick.
Our Verdict:
Salman Khan's Kick closely beats its Telugu namesake as a better entertainer for three reasons:
1. Ravi Teja comes close to Jai Ho star in terms of performance and energy, but Bhai pulls off action sequences with some unmatched style where Ravi Teja falters.
2. While Telugu film had lots of characters to make the situation comical, it deviates our attention from plot.  Salman Khan's Kick sticks to basic storyline conveying the right emotions at the right time.
3. Addition of Nawazuddin's character adds the much needed deadly antagonist to the film giving Bhai's Kick an edge over the Telugu film.