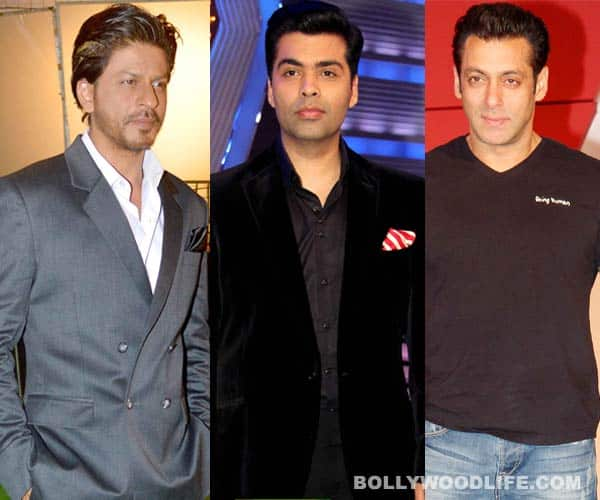 There was a rift between close-buddies KJo and SRK. What was the reason and have they buried the hatchet? Well, find out!
Karan Johar invited Salman Khan for the first episode of this season's popular chat show Koffee with Karan. Earlier, KJo always started off his show by inviting Shahrukh Khan for the first episode. So why did Karan invite Shahrukh's rival Khan for the first episode this season? Everyone knows about SRK and Sallu's fallout out at the latter's ex-girlfriend's birthday bash. Though they seemed to have hugged on two occasions recently, they are certainly not best friends in B-town, are they? Also, everyone knows about Shahrukh and Karan's camaraderie. But their relationship too went for a toss when KJo directed Student Of The Year without Shahrukh. It was his first film without close buddy SRK in it.
Well, after Karan invited Salman on his show, the rift between SRK-KJo was all the more obvious. At a recent awards show, we got to see Salman and Karan's new bond. The two were pulling each other's legs as if they've been close pals for years. So with the newfound friendship between Salman and Karan, is SRK's friendship with Karan over forever? Is the King Khan still angry with Karan and because of Salman Khan this time? Or have they let bygones be bygones?
Well, as per our secret birdie, Shahrukh has been invited on Karan's Koffee with Karan for the season finale. Our birdie chirps to us that though SRK has given a nod, he hasn't given a date yet. Yay! So looks like old buddies SRK and KJo have patched up after all!
Anyways, while all these reports about their rumoured fallout have been doing rounds, Karan Johar denies them. He maintains that he and SRK are still close chaps, says, "SRK is a part of Dharma. So what if he hasn't come to my show this season? Koffee with Karan is just a show while SRK is a big part of my life and company. Ditto Aditya Chopra and my dad. They conceived, conceptualised and envisioned this company. Tomorrow if I am asked to wipe the floors of Red Chillies and Yash Raj, I will do so. And I know if I ever need SRK and Adi, they will be there for me."
Hmmm… Now wethinks that Karan tactfully invited Salman for the opening episode of KWK while keeping his favourite Khan for the finale. We'll have to wait and watch though if Shahrukh has forgiven Karan for befriending his rival.