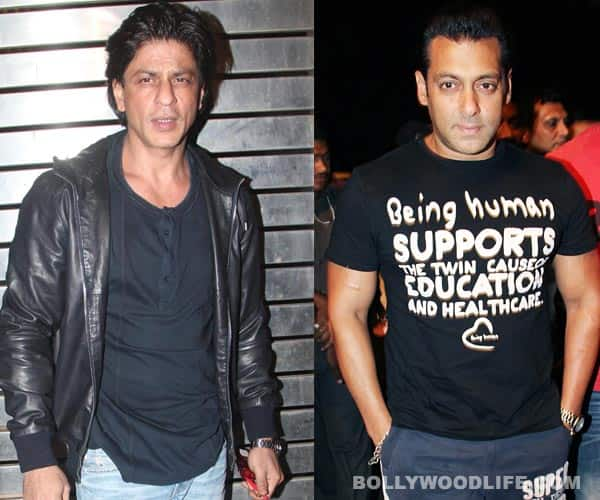 Shahrukh Khan will not attend the grand closing ceremony of the IPL 5. Though many believe that he doesn't want to bump into Salman Khan at the event, the real reason behind SRK's absence is completely different
We missed Shahrukh Khan at the opening ceremony of the ongoing IPL-5. Apparently, Baadshah Khan wanted to avoid bumping into his arch-rival Salman Khan, who was performing at the ceremony. And now we hear that SRK will not be attending the grand finale of the popular cricket tournament either, perhaps because Salman Khan is going to perform then. So even if his team Kolkata Knight Riders wins, Shahrukh in all probability will miss the closing ceremony.
Now this news has set many tongues a-wagging. The long-time rivalry between SRK and Sallu bhai has come to the fore once again, but we think the real reason why SRK is shying away from the ceremony is not just Salman Khan's act! There's one more individual SRK would hesitate to see or be seen with.
The IPL finale will feature performances from biggies like Amitabh Bachchan, Beyonce, Salman Khan and Priyanka Chopra! Yes you got that right. Priyanka too will shake a leg at the event. SRK can manage meeting face to face with Salman Khan and handle the situation deftly. But we hear it is Priyanka's presence that can make things difficult for the RA. One star.
Piggy Chops' growing closeness to her Don co-star had irked Shahrukh's wife Gauri. And now if SRK is seen with PC at the same event, the situation could get a bit awkward. It's better for Shahrukh if people believe that he's afraid of meeting Salman rather than encountering PC at the do and then face the music at home!
By the way, anyone seen Gauri Khan with her husband lately? Or even without him? It could of course be her interior design project in Pune that is keeping her busy – and invisible – but is there more to that story? We wonder….