Is Shahrukh Khan insecure about Arjun Rampal in 'RA.One'?
BollywoodLife
Last Updated: 3.20 PM IST 09.13.2011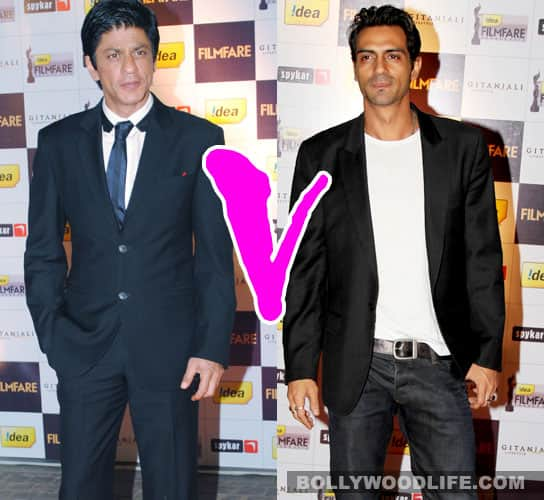 It is common knowledge that the title role of SRK's RA.One is being played by the Om Shanti Om baddie, but why is his look in the film being so fiercely guarded?
At the music launch of King Khan's latest film, RA.One, everyone was curious to know if the villain's look would be unveiled as well, but nothing of that sort happened. Arjun Rampal did take centre stage for a while and shook a leg to a song from the film, but his look in the movie was kept a secret. When Shahrukh was asked the reason for this, he admitted that the film belonged to Rampal and, for a change, the audience would want the villain to survive and hope the hero dies, thanks to the handsome actor's killer look, which will be kept under wraps till the movie releases this Diwali. In the course of the event, not-so-subtle hints were dropped that Rampal's character in RA.One might be a heady mix of all legendary villains of Bollywood – Mogambo, Gabbar Singh and the likes of so many Bad Men. SRK said that his film would be a benchmark in this genre, probably hinting that he has outdone Rakesh Roshan's Krrish, but we are eagerly waiting to see what the big deal is about Arjun's look and why it is being guarded like a national secret. Hope it is not an insecure Khan trying to keep the limelight to himself, as long as he can!
First Published: 2.54 PM IST 09.13.2011