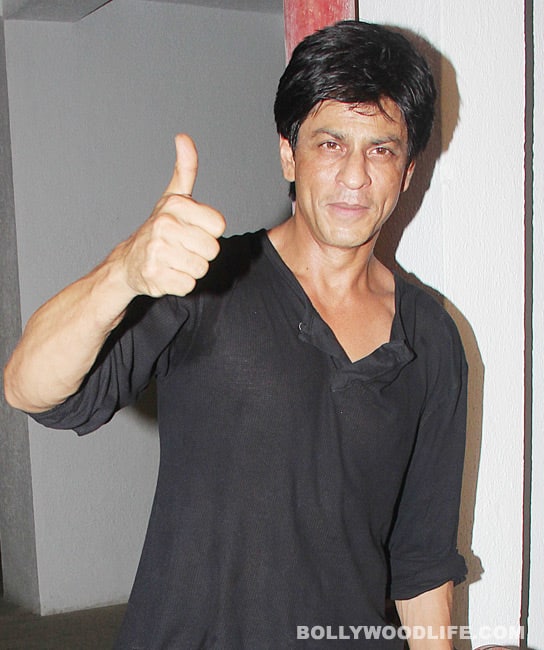 Considering all the meetings that our favourite superstar has been having and the piles of scripts that he is reportedly ploughing his way through, we had to wonder – why is SRK signing on a barrage of movies all of a sudden? Does he have plans to indulge his…err…passion further?
Shahrukh Khan has made his films on his own terms, at his own pace, and in the process has maintained an exclusivity that actors crave. Now it seems like the superstar is ready to let go of that snob value, given the number of movies he has been signing on to do.
For 2013, Shahrukh was supposed to do only two films: Rohit Shetty's Chennai Express and Farah Khan's Happy New Year. But the actor has now started talks with Rohit for two more scripts that he wants to work on. Besides that, SRK has also started to hold court in Mannat, discussing plans to get set for Don 3 with Farhan Akhtar and producer Ritesh Sidhwani. Besides that there is also the oddly titled A For Apple, B For Billi, C For Cutta by a little known filmmaker called Anil Senior.
So, what we want to know now is: why? What is it that SRK wants for which he is sacrificing his exclusivity and making the mistakes that so many newbie actors make? Does he need money for a new house? Is he financing a new production company? Is his cricket team Kolkata Knight Riders going to get yet another image makeover? Of…and we like this one…does Shahrukh have plans for a sequel to RA.One? Remember that film? Shudder!
We understand that SRK must be under pressure, considering the fact that every superhero flick is expected to be a franchise of at least three or four sequels. But RA.One did get a National Award, remember? So that could have inspired Shahrukh to start thinking fondly of a new and improved – well, it couldn't really get worse, could it? – version, where maybe G.One comes back as the kid's new uncle and actually is a bad guy who has plans to take over the world one pixel at a time….wait, that sounds familiar, no? But it would explain why SRK is heading for a signing spree.
Or…what a diabolical thought!…maybe he wants to catch up and rush ahead of his favourite rivals, Aamir Khan, Salman Khan and Akshay Kumar, who have been churning out the Rs 100 crore hits all year….Someone tell us ki asli kahani kya hai!