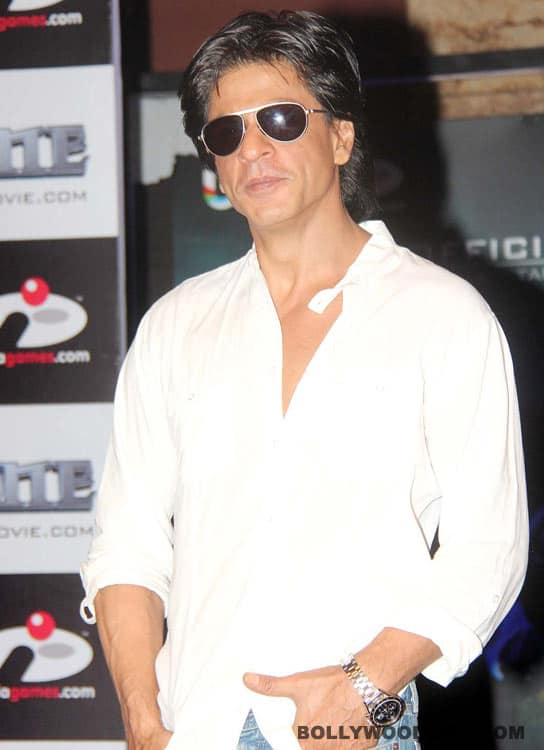 Buzz is that the King Khan has already recovered the money he has spent on his ambitious project, RA.One. Yet the actor is super nervous about the film's performance at the BO. And we can't help wondering why…
Shahrukh Khan started the promotions of RA.One almost a year before the film was due to release. After coming out with 30-second teasers, he went on to release many more promos, one after the other. Recently, in a one-of-a-kind deal, he sold the television rights to the music launch of his film to Star One for a whopping Rs10 crore. Plus, he has been conducting one press conference after another.
He has also gone ahead and tied up with various brands and has sold the music rights of his film at a big price. He has come up with RA.One dolls, a sleek interactive website and a Playstation game. So SRK the producer seems to have already recovered his money. Now it's up to the distributors to earn profits at the BO.
We all know that SRK is a marketing whiz and plans his promotional activities in great detail. We also know that Shahrukh loves to go overboard whenever his company, Red Chillies Entertainment, produces a film. Case in point: Om Shanti Om.
Yet this time around the story seems to be slightly different. Even though he's got so much going for him, SRK doesn't look very comfortable. Every other night he is on a reality TV show promoting his film. And instead of his usual energetic self, he looks jaded, tired and exhausted. He's been spending sleepless nights and appears extremely nervous about the film's BO results. Wethinks it's SRK's desperation to beat all the previous opening records that his making him lose sleep! In fact, he has planned a really hectic promotion schedule during the release week and has taken over 90 per cent of the screens.
Salman Khan has been holding the record for the biggest opening in India for two consecutive years now. First, it was Dabbang and now Bodyguard. And SRK seems to be in the mood to knock his enemy down this time around. Is it SRK's ego that is making him go to such lengths to see that his film breaks Salman's record? We guess he wants to prove to some of his recent enemies and to himself that he still is the reigning Khan of Bollywood. Come on, Mr K, take a cue from Sallu and just chill!