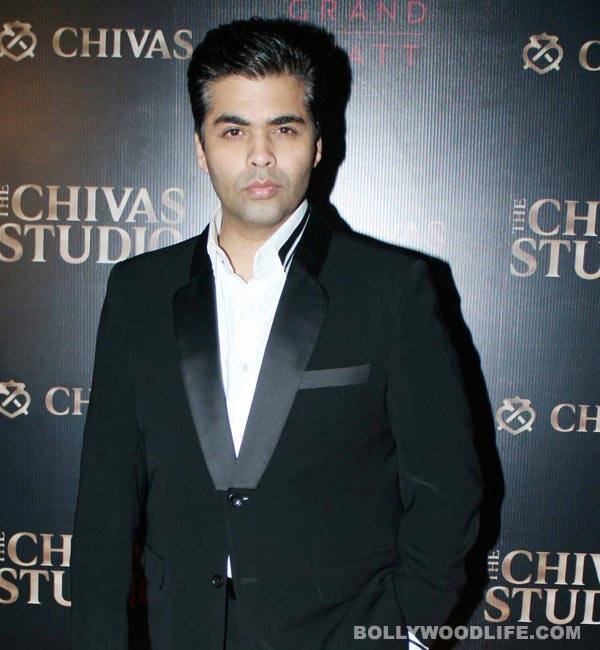 From Duggu to Ranveer to Aamir, most A-list actors have turned down KJo's Shuddhi which has been in the news forever. As of now Johar sure seems to be the most unlucky director and his dream project must be driving him crazy, hai na?
Imagine Karan Johar playing the lead in his much-talked about film Shuddhi. Yes, it would be nothing less than a disaster and we are glad that even the Koffee with Karan host feels the same. Today he posted on Twitter, "I AM PLAYING THE LEAD IN SHUDDHI!!!! Sounds Ridiculous??? Well as ridiculous as some of the news reports making the rounds!!!" Well, that could be the last resort if no actor says yes to his film. After all, the filmmaker is making his acting debut with Bombay Velvet wherein he plays a baddie. Coming back to Shuddhi, Karan has lost a lot things coz of his ambitious project. Just a few days back, we heard Hrithik Roshan walked out of Shuddhi as he wanted 40 percent of the film's total profit. As soon as this new started doing the rounds poor Karan took to Twitter and cleared the air. We all know Kareena Kapoor Khan's dosti has gone kaput with the Dharma Productions head honcho courtesy his magnum opus in which the former was to star originally. Then Deepika Padukone also ditched her Yeh Jawaani Hai Deewani producer and chose Sanjay Leela Bhansali's Bajirao Mastani over Shuddhi. Now that must have hurt Karan coz the actor-producer-director had high hopes from the dusky beauty and was all praises for her post YJHD remember?
If this wasn't enough, Karan Johar's new friend Aamir Khan too left the filmmaker disappointed. Khan turned down Shuddhi not once but twice. Ouch! The KWK host must have gotten really hot…in the head of course. Now that most B-townies have refused to sign on the dotted line, wethinks the Bombay Velvet baddie should consider a certain Kamaal R Khan's advice. He wrote on Twitter, "Sir Karan Johar 300% ppl say tat U shud sign me 4 Shuddhi so why r u trying 4 small star like Hrithik n Ranbir. Sing big star lik SRK or KRK."
We don't mean KJo should rope in the flop Deshdrohi actor for his film but approach his once-upon- a-time best buddy Shahrukh Khan. That way their dostana would blossom once again and Karan's Shuddhi would also get a superstar hero. Win-win situation, no?