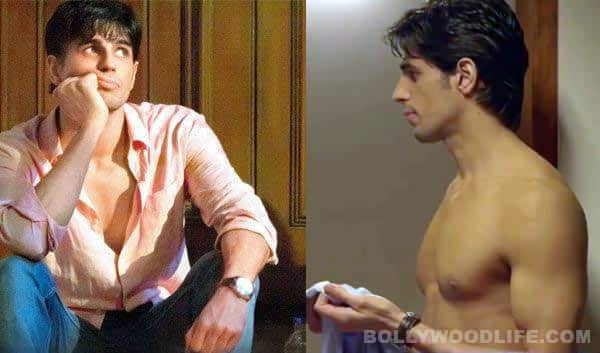 Sidharth, who went shirtless in his debut film, Student Of The Year has removed his clothes again in his upcoming film. But this time he is embarrassed…
Sidharth Malhotra, who worked out rigorously for a scene that required him to go shirtless in his upcoming film, Hasee Toh Phasee, has now taken a U-turn as he doesn't want his shirtless scenes to be included in the film, which also has Parineeti Chopra playing the female lead. But why?
"Initially, we were supposed to shoot with him and in anticipation of the shoot, Sidharth followed a special two-week diet, supplementing it with a carefully chalked out workout session. Then the shoot was pushed to another date and Sidharth had to maintain his regime. But watching the scenes now has left him feeling uncomfortable." a unit member said.
"Yes, it is true that I have asked Vinil Mathew (director of the film) to cut the shirtless scene from the film. I want the audience to know me for my acting skills and not my physique. I have always wanted to be known as an actor rather than a star so it made sense to do away with the shirtless scene," Sidharth was quoted by a tabloid.
Really Sidharth? Let us remind you that you are not living in a world where you could just act good and get away with it. Otherwise, why do you think good actors like Aamir Khan and Shahrukh Khan also chose to go shirtless in their films?