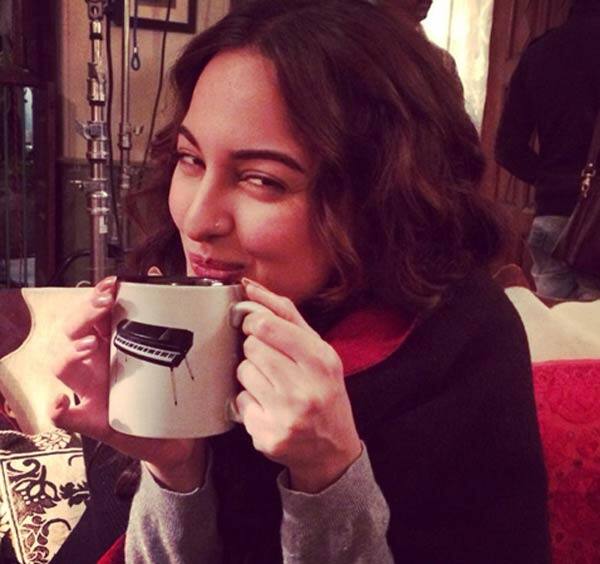 skip advertisement
Tevar has gone on floors and here are some pictures from the sets
Sonakshi Sinha has begun shooting for her next film, Tevar, alongside Arjun Kapoor. And by the looks of it, Sona seems to be having fun on location. Also, wethinks that no matter how busy she is, she finds time for her garma garam chai and her loving fans. Despite her shooting schedule, Sona makes sure to post pictures for her fans. Here are some of her recent tweets.
Apparently, the R…Rajkumar babe didn't have a very good flight and even expressed her frustration on Twitter. And finally on reaching the location, she tweeted, "After a 1.5 hour flight and 2 hour drive finally reached location and we already have an audience! Love being back on shoot :)." A few days into shooting and then she tweeted a pic of herself with a hot cuppa and tweeted, "Jaipur ki thand mein garma garam chaiiii! On set, doing what i love to do… Wouldnt wanna be anywhere else! #bliss!"
In one of the photos that she tweeted, she quite blends in with the locals. She posted a picture of herself with a shawl drawn over her head and tweeted, "When its cold, warmth always finds its way to you! Heart and soul of India… Wherever i may roam. #roots."
After posting her own pic, Sonakshi finally tweeted photos along with her team and posted, "Inke TEVAR toh dekho!! Director, Producer, Actors #OnSet."
Well, well. Sonakshi seems to be enjoying on the sets of Tevar, no? Let's hope she posts more pics. 'Coz we're loving it!