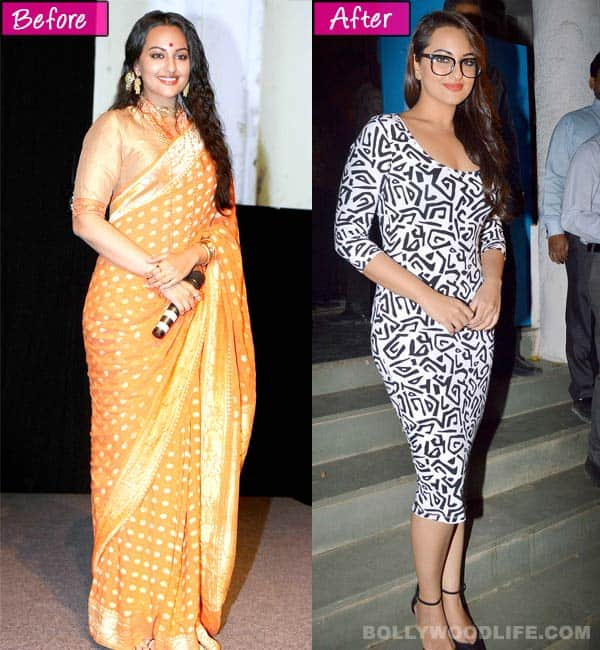 Yogen Shah
Junior Shotgun seems to have taken a cue from BollywoodLife's constant criticism on her figure. She has recently started a new health regime to lose weight naturally
Sonakshi Sinha has taken a New Year resolution even before the New Year begins. She has started a new health regime to lose weight naturally. Oops! Did we mention her weight again? We are so sorry but the only thing that comes to our mind when we think of her is her curvaceous figure and her auntyji image. To add to it, she is also leading the Who is the Auntyji of the year award for the 3rd BollywoodLife Awards.
Previously the Dabangg actor has always been comfortable with her curves, but somehow over the past few months, things have changed. Sonakshi had previously refused to talk to our reporter stating this issue as a reason. Later she had also called BollywoodLife a tacky website because we talk about her figure all the time. But now it seems that all that criticism has done her some good. Sona baby finally seems to have seen the light of the day and found reason in our criticism. A little birdie chirps to us that she has recently started dieting in a natural way. She maintains that this regime would not entail any starving and would be the best possible way for her to lose weight. And you won't believe it. The change is noticeable. She was recently spotted at a success bash for R…Rajkumar and everyone complimented her for stepping out in a pencil dress.
We think the actor will hopefully forgive us now for our sassiness and will get to know that behind all those articles on her appearance, there was a genuine admiration for her acting talent. Considering her last release has done well at the box-office, it's time we get to see her more onscreen with visibly some kilos off her.