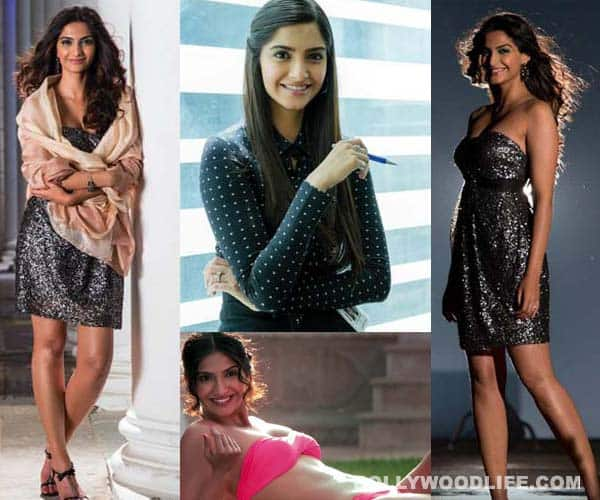 skip advertisement
The fashionista that she is Sonam doesn't allow us to see the character she portrays in her forthcoming movie at all. All we see is chicness and a distinct wardrobe at its stylish best. Do you agree?
The ever-so-stylish Sonam Kapoor has definitely upped her ante in terms of presenting herself in this glam- glam-super-glam avatar in Bewakoofiyaan. We at BollywoodLife are a certified fan of Sonam's sartorial sensibility, but never did we ever imagine that the elegant young lady could look absolutely lava-hot in a bikini too!
The pink two piece swim suit makes Sonam look gracefully seductive and irresistibly desirable. And our admiration just begins from there and seems to head towards a never ending path as we are subjected to Sonam's wardrobe that could prompt any girl to do whatever it takes to own it.
From the glitzy metallic coloured off shoulder outfit (that displays those long limbs in a sexy manner) to the smartly crafted corporate attire-Sonam looks her trendy self in possibly every frame of the movie. And from the desi outfits to even a humble kurti-Sonam knows how to flow with elegance coupled with equal amount discretion and dignity in whatever she wraps around her hot bod.
The most heartening part about her persona is that she knows her accessories and make-up as well as her outfits and dons them with confidence. The best part of her styling in this one is the art of flashing that maddening smile that can leave guys bonkers and gals green with envy.
From whatever little we have seen of Bewakoofiyan we can safely say that Sonam is going to slain some style-serious soul with her adah. And about that there's no doubt in our collective fashion-sensible heads, Right BL readers?